Prince Harry, Meghan Markle receive coronation invitation from King Charles III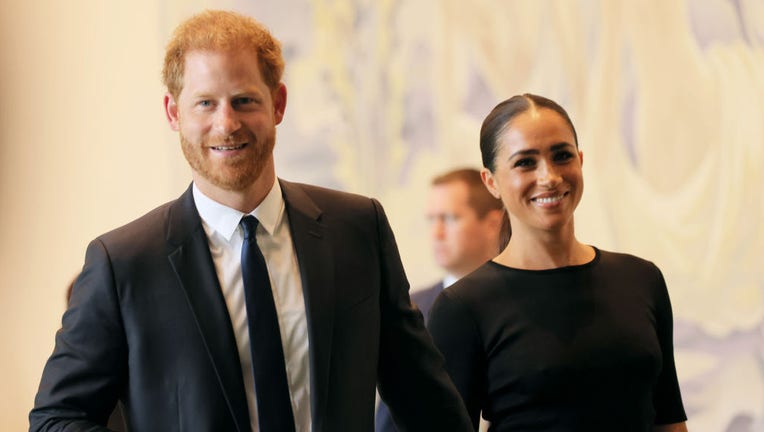 article
King Charles III is attempting to bring his family together once again despite ongoing tension in the monarchy.
Meghan Markle and Prince Harry were extended an invitation to His Majesty's coronation in May, according to the Sunday Times.
It's unclear if the Duke and Duchess of Sussex will attend the ceremony.
Charles will be formally crowned on May 6 at London's Westminster Abbey, nearly nine months after he ascended the throne following the death of Queen Elizabeth II.
Buckingham Palace and Archewell did not immediately respond to Fox News Digital's request for comment.
May 6 is a particularly important date for Prince Harry and Meghan as the day coincides with their son Archie's fourth birthday. The Duke and Duchess of Sussex removed themselves from royal responsibilities in January 2020 and moved to Canada before settling in Southern California. 
'OVERWHELMED' MEGHAN MARKLE FEARS PALACE 'IS ONLY FIGHTING FOR PRINCE HARRY' AMID CORONATION PREPS: EXPERT
Social media fans believe the palace's decision to host the event on Archie's big day was a calculated slight against the Duke and Duchess of Sussex.
"I wonder why King Charles chose to hold his coronation on Archie's birthday? Maybe so his grandson could share his special day or he's done this to steal his grandson's 'thunder,'" one Twitter user mused. 
Another claimed, "Charles III wants media to bombard Harry & Meghan until next year who they'll sacrifice…to have Archie's birthday in peace in USA or a messy chaotic stressful coronation for a cold fish father in UK. Charles continues to be a horrible person."
The palace previously shared that the featured roles for members of the king and queen's family are part of a ceremony that "will reflect the monarch's role today and look toward the future while being rooted in long-standing traditions and pageantry."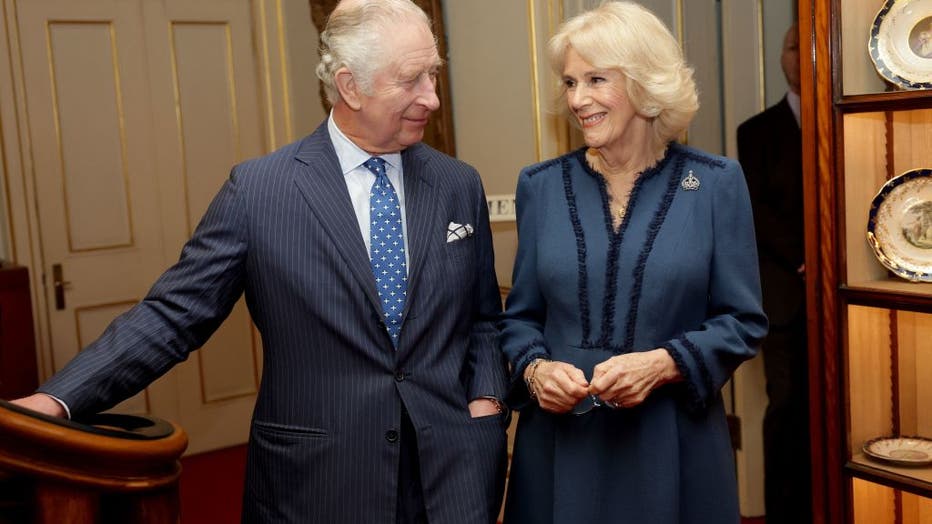 Britain's Camilla, Queen Consort (R) and Britain's King Charles III (L) share a moment at a reception at Clarence House in London on Feb. 23, 2023, for authors, members of the literary community and representatives of literacy charities, to celebrate
KING CHARLES DENIED BY HARRY STYLES, ADELE, ELTON JOHN FOR CORONATION CONCERT: EXPERTS REVEAL WHY
Reports also claim that Queen Consort Camilla will be recognized simply as "queen" and drop the "queen consort" title.
In February 2022, several months before her death, the late queen marked the 70th anniversary of her rule with support for Camilla. At the time, the monarch expressed her "sincere wish" that Charles' wife should be known as "Queen Consort" when her son succeeds her.
It took years for many in Britain to forgive Charles, whose admitted infidelity and long-time links to Camilla torpedoed his marriage to Princess Diana, known as "the People's Princess." The glamorous young mother of Princes William and Harry died in a Paris car crash in 1997, five years after her messy, public split from Charles. She was 36.
When Camilla, 75, married Charles in 2005, it was widely assumed she would not be known as queen when Charles, 74, acceded to the throne. However, Elizabeth's words set the record straight on her daughter-in-law, who was initially shunned by Diana's supporters.
In January, Harry accused his stepmother of leaking private conversations to the media to burnish her own reputation. The accusation was published in his explosive memoir, "Spare." 
CLICK HERE TO SIGN UP FOR THE ENTERTAINMENT NEWSLETTER
In interviews to promote the book, the Duke of Sussex accused members of the royal family of getting "into bed with the devil" to gain favorable tabloid coverage, singling out Camilla's efforts to rehabilitate her image with the British people after her longtime affair with his father.
"That made her dangerous because of the connections that she was forging within the British press," the 38-year-old told CBS. "There was open willingness on both sides to trade information. And with a family built on hierarchy, and with her on the way to being queen consort, there was gonna be people or bodies left in the street."
In the book, Harry wrote that he and William both "begged" their father not to marry Camilla, worried she would become a "wicked stepmother." Harry also wrote in his book that from the very beginning of his relationship with Meghan Markle, his family was just as skeptical about the American actress as was the British press.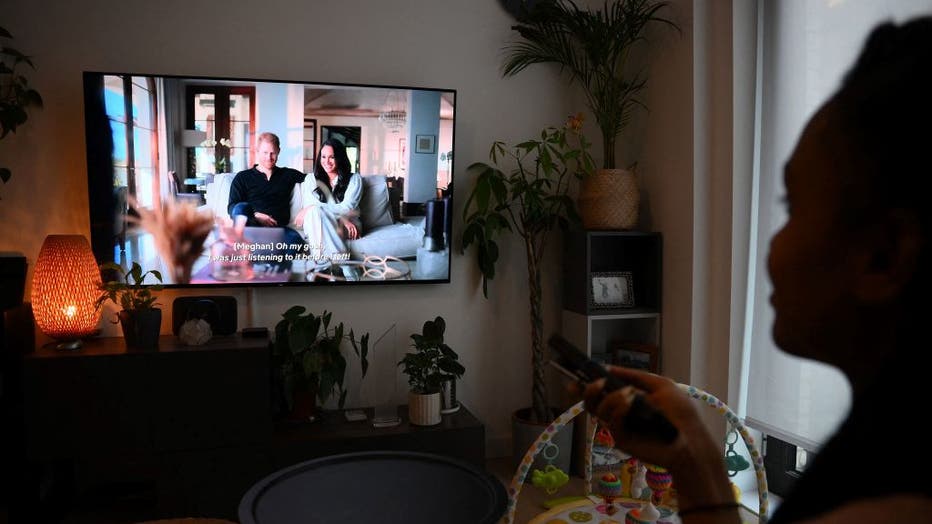 FILE - A woman poses as she watches an episode of the Netflix docuseries "Harry and Meghan" about Britain's Prince Harry, Duke of Sussex, and Britain's Meghan, Duchess of Sussex, in London on Dec. 8, 2022. (Photo by DANIEL LEAL/AFP via Getty Images)
After Harry tried to set the tone and released a statement condemning tabloid coverage of their relationship, William grew furious with his brother. When Meghan and Harry were given the Duke and Duchess of Sussex title, everything boiled over and William reportedly became physically violent toward Harry.
The Palace has yet to speak out about the allegations in Prince Harry's book which hit shelves shortly after the shocking "Harry and Meghan" Netflix docu-series.