Northern Metals Recycling settles with MPCA, relocating facility to Becker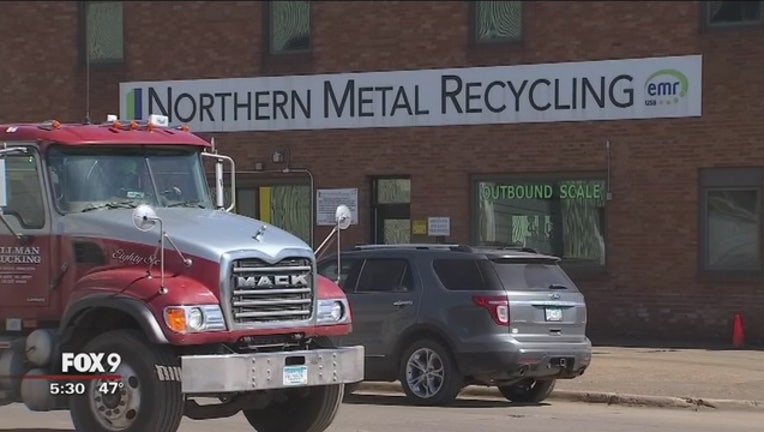 article
(KMSP) - Northern Metals Recycling reached a settlement with the Minnesota Pollution Control Agency regarding its facility in northeast Minneapolis. The company also announced in an agreement with Xcel Energy, it plans to relocate that facility to Becker.
In the past, the MPCA moved to shut down the facility because officials believed it was the cause of unhealthy lead and metal levels in the air.
RELATED: MPCA moves to close north Minneapolis recycling plant
Northern Metals Recycling and MPCA are now in a consent decree to memorialize settlement terms.
"After multiple years of costly and contentious litigation against the MPCA concerning the operation of out Pacific Street Facility, Northern Metals is pleased that we have been able to amicably and cooperatively resolve this matter outside of the courts," said Scott Helberg, Chief Operating Officer of Northern Metals.
In the press release, Helberg states Northern Metals has "admitted to no violations of the law" and maintains the company "operated the Pacific Street shredder to the strictest standards of environmental compliance".
As part of settlement negotiations, the MPCA supervised testing of the Pacific Street facility's air emissions for two days. The test found the facility's air emissions of lead was "significantly" below the limits set by the air permit.
An independent "background" test by Northern Metals showed other adjacent sources in north Minneapolis were creating "excessive sources of particulate matter and lead." 
In an agreement with Xcel Energy, the company will also be relocating its northeast Minneapolis facility to Becker. The company plans to build a new facility in the city. The facility will bring at least 85 jobs.
Under the consent decree, Northern Metals Recycling, the northeast Minneapolis facility will continue running until the Becker facility is permitted and operational.