North Carolina man, once obese, inspired by Navy SEAL to quit drinking, get fit and radically alter his life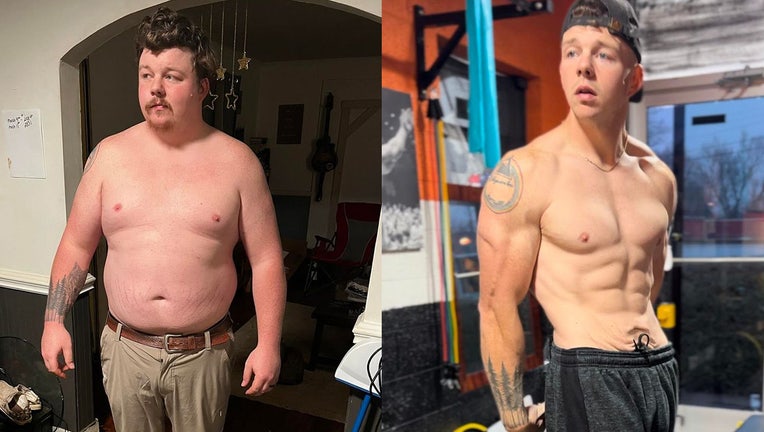 article
A man who dropped over 100 pounds in less than a year now wants to motivate others to change their lives — while striving to reach even higher himself.
Taylor Robertson, 27, of Winston-Salem, North Carolina, tipped the scales at well over 300 pounds in October 2021 when he decided to make changes in his life. 
The first thing on his list? He quit drinking.
BODY POSITIVITY MOVEMENT REJECTED BY HEALTH INFLUENCER ON WEIGHT LOSS JOURNEY: 'MORBID OBESITY IS NOT HEALTHY'
"I drank for probably six years straight," Robertson told Fox News Digital in a phone interview. 
He said he drank about a bottle of liquor a day, to the point where he "started making bad decisions."  
With the help of his fiancée, Robertson got sober — and immediately dropped about 30 pounds without exercising.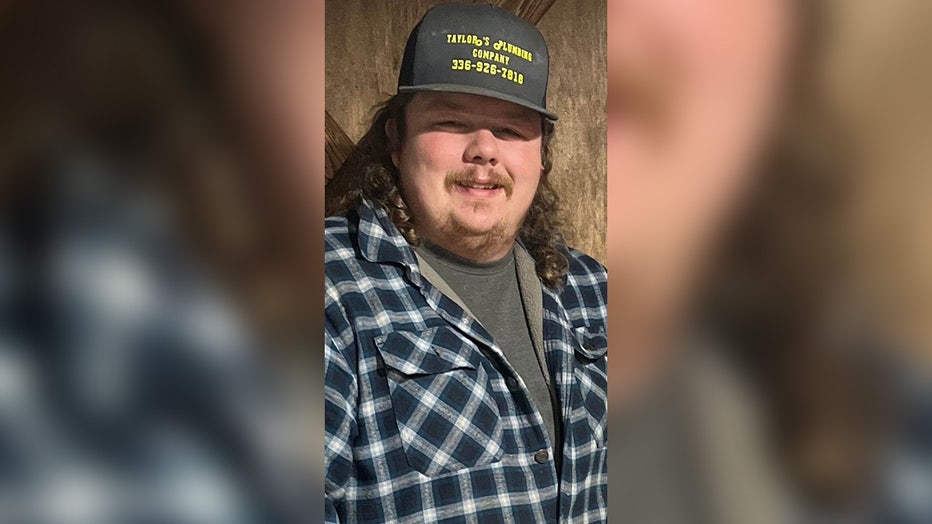 Taylor Robertson is shown here — before he began making healthy life changes. "I drank for probably six years straight," he told Fox News Digital. (Taylor Robertson)
Inspired by this weight loss, Robertson turned to YouTube for diet and exercise tips.
He found that eating one large meal a day of chicken and rice worked well with his lifestyle, and he also began to work toward exercising more. 
In nine months, Robertson lost 130 pounds, he said. 
Robertson credited his tendency to take things to the "extreme" for his success in transforming himself — and for how he got so heavy and unfit in the first place. 
FITNESS FAIL? EQUINOX GYM'S SHAMING OF NEW YEAR'S RESOLUTIONS RAISES THE EYEBROWS OF EXERCISE EXPERTS
"When I was drinking, I took that to the extreme," he said. "I want to change my life, and I took that to the extreme as well. So I started running."
At the start of his running journey, Robertson said he "couldn't run a quarter-mile without feeling like I was absolutely dead." 
Running was "hard as hell," he said — but he decided to push on with it. He now runs 5K races frequently and ultimately hopes to complete the Ironman triathlon.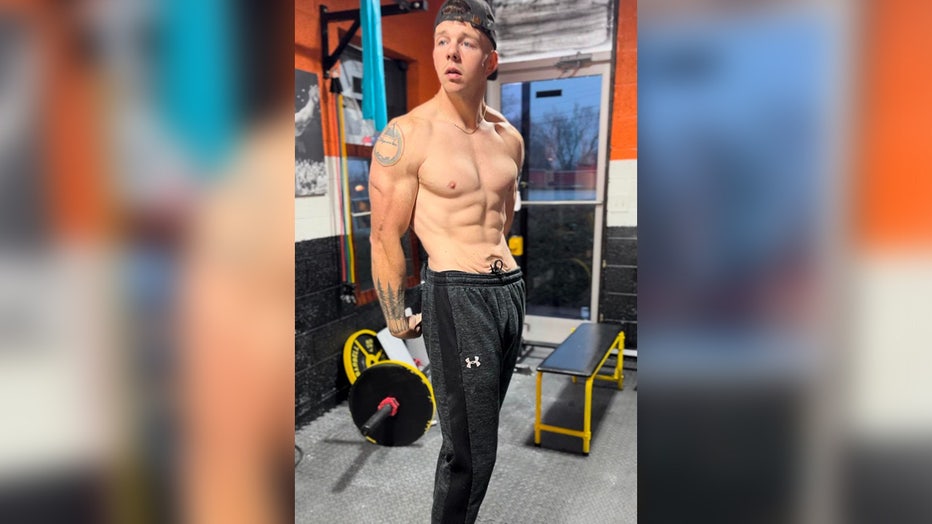 Finding himself with a lot more free time on his hands after he quit drinking, Taylor Robertson of North Carolina secured a gym membership — and quickly became hooked on working out, he said. (Taylor Robertson)
Throughout his fitness journey, Robertson turned to retired Navy SEAL-turned-runner David Goggins for motivation, listening to his talks and videos "every single day," he said.
Goggins, who was also once 300 pounds, according to his website, changed his own habits to become "the only member of the U.S. Armed Forces to complete SEAL training, Air Force tactical air controller training and the U.S. Army Ranger School, where he graduated as 'Enlisted Honor Man.'"
Goggins explained in a video on his website, Bigthink.com, that he doesn't believe in popular and trendy mantras of the day, but in incremental growth — and doing hard things one step at a time.
TIKTOK STAR AND WWII VETERAN 'PAPA JAKE' TURNS 100, WANTS FUTURE GENERATIONS TO KNOW HIS STORIES
"If you sit there and have that mentality of 'triple down every day' at what you're good at, you will never grow," he said in the video — instead recommending doing things that are hard.
He also said, "Mental toughness is a lifestyle. It's something that you live every single day of your life." (SEE Goggins during a "Fox & Friends" appearance in the video at the bottom of this article.)
He also said, "When I was growing up I was a lazy kid, and everybody asks, 'How did you get to where you're at today?'"
Goggins continued, "It started off by recognizing, honestly, that my bedroom was dirty … I lived a sloppy life."
He began to make "very small increments of change," he noted. "I started making my bed. I started cleaning my room."
OBESITY AND BELLY BULGE LINKED TO BEING 'FRAIL' LATER IN LIFE: STUDY
Goggins said that over a period of time, "your brain doesn't like it but it starts to realize, 'This is a new way of thinking.'"
He also said, "You live uncomfortable to gain growth."
Fox News Digital reached out to Goggins for further comment.
This mindset helped Robertson, too, as he continued his own journey to health and self-discipline.
After quitting drinking, Robertson found he had a sudden increase in free time — and he got "kind of bored."
"I was like, 'Well, maybe I'll go to the gym since I have the time,'" he said. "Drinking had consumed all of my time."
After getting a gym membership, Robertson said he "just kind of became obsessed with it." 
Inspired by Goggins, Robertson began making a point to exercise when he did not want to do it. 
"Anything that was hard, [Goggins] would do. If he felt like he didn't want to do it, he would do it," said Robertson. 
He began keeping a duffel bag of workout clothes in his car so that he could get in a run at any time, regardless of where he was going.
Robertson, a plumber, works for himself — and fits in exercise whenever he can. 
RUNNING 1 MILE A DAY IS GAINING POPULARITY ONLINE: HOW IT CAN IMPROVE YOUR HEALTH
"Any time that I'm not working, I'm in the gym," he said. 
And while his fiancée thinks Robertson's diet and exercise plan is "psycho," he said, she is relieved that he's no longer drinking and partying. She has also joined him on a health journey of her own.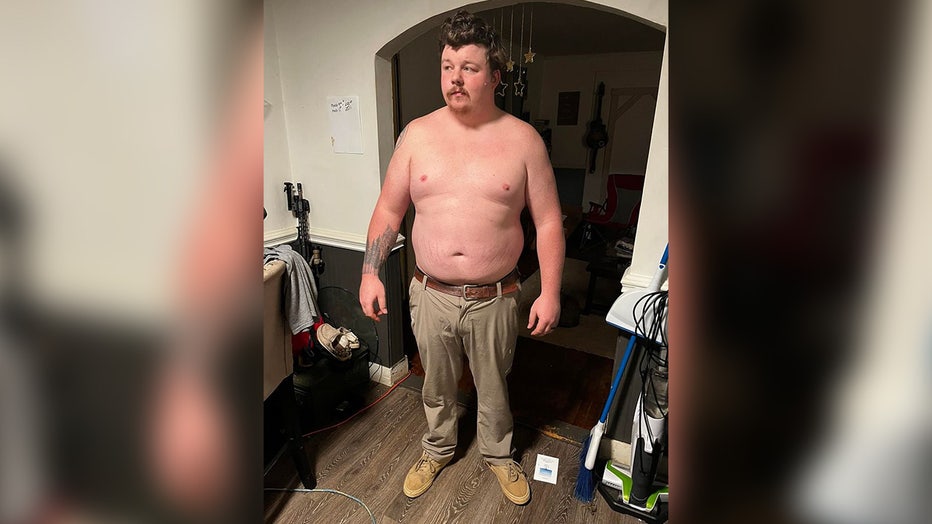 Taylor Robertson was over 300 pounds at his heaviest, he said. (Taylor Robertson)
After losing quite a bit of weight to the point where he said he was in disbelief when he looked in the mirror, Robertson decided to start a TikTok account to inspire others to make changes in their own lives. 
He now has almost 40,000 followers. 
CLICK HERE TO GET THE FOX NEWS APP
"I can see that if anyone could be an inspiration, it could be me," he said. 
"Because I was the fattest, most hillbilly-looking [person] you could imagine." 
Robertson used grit, hard work and determination to get where he is today. 
"There were zero steroids, fat burners or any other substances used," he said. "Just hard work and consistency."
Robertson knows there are other people like him in need of motivation and inspiration to change their lives. 
He also said he knows there are a lot of "chubby, blue-collar" guys out there who "think they can't get in shape … I was one of them."
Robertson's biggest advice? "Just get started." 
CLICK HERE TO SIGN UP FOR OUR LIFESTYLE NEWSLETTER
"Just start walking. Try it. Just try a diet," he said. 
"And if it's too hard to walk, ride a bike. If it's too hard to ride a bike, I don't know, twiddle your thumbs, but do it so much you can't do it anymore." 
He added, "That's what I did."