No special session, Dayton and Daudt accuse each other for breaking agreement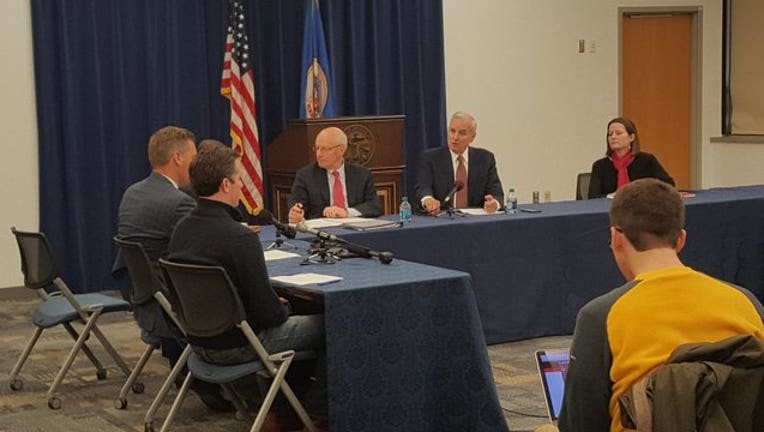 article
ST. PAUL, Minn. (KMSP) - A special session to create relief for Minnesotans facing insurance premium increases will not happen next week.
At a final meeting between Governor Mark Dayton and House Speaker Kurt Daudt Friday afternoon, the two accused each other of breaking the agreement that would have led to the special session.
A spokesman for the governor told Fox 9 three of the four caucuses were on board, but Daudt was still unwilling.
Both men ended up storming out of the meeting.
"There is just no effort on the part of the governor or the administration to actually push anyone to solve any of these problems," said Daudt after the meeting.
"We both share blame, but it's not about blame, it's about getting it done for Minnesota. And I don't frankly know what else I could have done," said Dayton after the meeting.
Daudt says legislators will work on a premium relief bill during the beginning of the regular session, which is a little more than two weeks away. Daudt says the bonding bill will likely have to wait another year.
But Dayton says he will send a bonding bill the first week of session. He says he anticipates a charged and contentious legislative session next year ahead of 2018 elections.
Majority Leader-Elect Paul Gazelka statement:
"I am very disappointed that after months of negotiations an agreement was not made in time to hold a special session. There were a number of key issues left on the table, including healthcare reform, transportation funding, and tax relief. In November, Minnesotans voted for change. They deserve a government that works.
"My hope is that we can all take advantage of the holidays to relax and hit the reset button. Senate Republicans are committed to ending gridlock and getting straight to work on day one of the next legislative session in January."
House DFL Leader Paul Thissen statement:
"I've heard from so many Minnesotans with heartbreaking stories about individual premiums that they simply cannot afford. There is plenty of blame to go around for why this happened and I'll accept my share. But it is inexcusable that Minnesota's leaders cannot even pass a simple bill to provide these families with short-term relief. We better do better come January 3."