Missing dog reunited with family 8 years later: 'I think he really remembers us'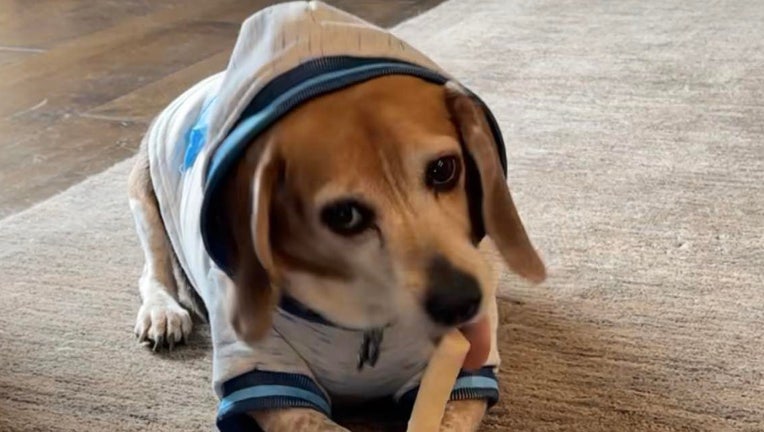 article
WICHITA, Kan. - Eight years. That's how long it took for Nicolle Leon to be reunited with her lost dog, a beagle named Roscoe.
The 41-year-old mother of Wichita, Kansas, said Roscoe went missing in early 2015 from her home.
"I was away and came home and he was gone," Leon told FOX Television Stations. "My gut feeling is someone stole him from our backyard or he got out and whoever found him kept him or sold him."
Leon said there were no signs that Roscoe had dug his way out of the yard. She called various shelters and animal control but to no avail. Thankfully, Roscoe had on a collar and was microchipped.
RELATED: Pennsylvania school district's police K-9 included in yearbook photos
"My kids were sad," she continued. "We all were."
In January 2023, a phone call changed everything.
Leon received that phone call from a woman who said she found her dog. Leon had thought the woman was talking about another one of her dogs, not Roscoe.
Roscoe, a beagle, has been reunited with his family after being missing for eight years.  (Nicolle Leon)
"I was asleep and initially thought one of my dogs I have now had gotten out since I was away for work," Leon said.
But the call was coming from more than 1,300 miles away, in Caldwell, Idaho.
Leon said she initially thought the caller must have been mistaken.
"I said, 'Oh that's not my dog. I live in Kansas.' She said he has a blue collar on and then I said 'Nope, my dogs don't have a blue collar,'" she explained.
"But then [I] asked her what kind of dog and she said beagle," Leon continued. "Then I immediately knew it was my missing dog."
Leon then arranged to have her dog brought back to Kansas with the help of good Samaritans. She was finally reunited with him on Jan. 15.
RELATED: Bystander dives into chilly river to rescue dog swept up by 'turbulent' current
To this day, Leon has no clue how her beloved pet ended up multiple states away over the past eight years. Leon said Roscoe did not have a tag on his collar when he was found, leaving her to suspect he may have been stolen.
She hopes those answers will come, but for now, she is just glad to have her family back intact.
"It's amazing to have him back," she said. "It's sad we've missed out on the last eight years with him though. He's such a good dog and I think he really remembers us."
This story was reported from Los Angeles.