Census: Minnesota avoids losing 8th congressional seat by just 89 people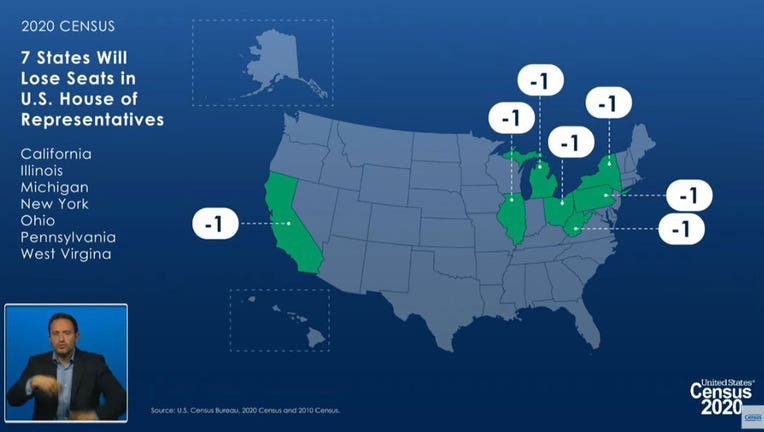 (FOX 9) - Minnesota will cling to all eight of its congressional seats by the thinnest margin since at least 1930, the U.S. Census Bureau said Monday.
Minnesota snagged the last of the 435 U.S. House seats, which are assigned proportionally to states based on the Census count. Had 89 fewer Minnesotans been counted, the seat would've gone to New York instead.
"Losing one district would have been a serious blow to the state," state demographer Susan Brower said in an emailed statement. Brower said each of the remaining districts would've had to grow by 102,000 people if Minnesota had gone down to seven seats.
Minnesota had been widely expected to lose its eighth district, which would have set off a complicated redistricting process. Two current members would've faced the prospect of running against each other, while suburban members would've seen their districts expand further into rural Minnesota and would need to introduce themselves to a new set of voters.
Minnesota avoided that fate by adding 394,873 residents over the past decade, putting the state's official population at slightly more than 5.7 million. The 7.4 percent growth rate is the fastest in the Midwest outside of the Dakotas.
The state is now less than 200,000 people away from surpassing Wisconsin, where the population is just less than 5.9 million.
Seven states are losing a seat in Congress. Texas is gaining two seats, while five others are gaining one.
The slim margin between Minnesota and New York stunned reporters from the Empire State on a nationwide news conference Monday afternoon.
Kristin Koslap, of the U.S. Census Bureau, declined to speculate on how Minnesota managed to hang onto all eight of its seats.
"We just use the counts that come to us from the decennial Census," Koslap said. "We're very confident in the quality of the data, and we've worked hard to ensure the data we're using to calculate apportionment is correct."
Minnesota had a nation-leading 75.1 percent self-response rate in 2020. But the advantages from a high response rate are minimal because the Census Bureau sends canvassers into the field and uses statistical methods to approximate households that don't respond to mailed questionnaires.
The Census Bureau only released state-by-state numbers Monday while promising to provide localized data by Aug. 16. That will trigger the redistricting process for state legislative and municipal districts, a process that will wind up in the courts if Minnesota's divided Legislature can't come to an agreement.