Minnesota courts expand camera access to criminal trials
ST. PAUL, Minn. (AP) - Minnesota courts will allow greater audiovisual coverage of criminal proceedings starting next year under an order filed Wednesday by the Minnesota Supreme Court, but the rules will nonetheless remain more restrictive than those in many other states.
Worldwide broadcasts and livestreams of the 2021 trial of former Minneapolis police officer Derek Chauvin and his conviction for murdering George Floyd, which were allowed under special pandemic rules, were widely seen as a success. That led Chief Justice Lorie Gildea to launch a process that led to the easing, which takes effect Jan. 1.
The order removed a longstanding requirement in Minnesota that both the defense and prosecution consent to camera coverage of most criminal proceedings, which effectively prevented it. The rules were eased five years ago to allow live and recorded coverage of sentencings. But trial judges will retain broad discretion to allow or disallow coverage on a case-by-case basis.
The order, signed by Gildea, said the changes "will promote transparency and confidence in the basic fairness that is an essential component of our system of justice in Minnesota and protect the constitutional rights and safety of all participants in criminal proceedings in the State."
Jane Kirtley, director of The Silha Center for the Study of Media Ethics and Law at the University of Minnesota, said she would have preferred a presumption for allowing audiovisual coverage of all proceedings. But she said it's still a "huge breakthrough" in a state where much of the legal establishment has been firmly against cameras in the courts.
"I really cannot say enough about what a giant step forward this is for Minnesota," Kirtley said.
The justices acknowledged that a special court advisory committee and victim advocate groups raised "serious and legitimate concerns" about the risks and challenges of broader audiovisual coverage.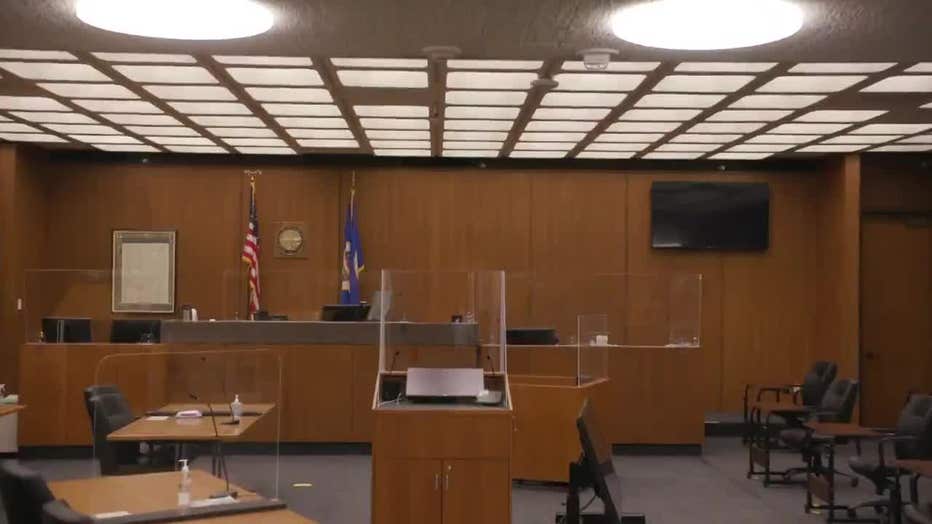 Courtroom 1856 at the Hennepin County Government Center., prepared for the Derek Chauvin trial for the death of George Floyd. (FOX 9)
"We conclude, however, that the modifications to the rules that we adopt provide important protections against those risks," the justices said. "The modified rules prohibit a district court judge from allowing visual and audio coverage if there is a substantial likelihood that coverage would expose any victim or witness who may testify at trial to harm, threats of harm, or intimidation."
Video coverage of jury selection and pretrial proceedings will remain prohibited, along with witnesses or defendants who are minors, or coverage that might identify a juror. Some restrictions will also remain in place for criminal sexual conduct and domestic abuse cases. Camera coverage of adult crime victims will be prohibited unless they consent; minors who are victims can't be covered
But the order also said judges' decisions to allow or disallow camera coverage should include the consideration that allowing it "in appropriate circumstances" can increase transparency and "enhance the public's understanding of, and confidence in, its court system."
Justice Anne McKeig dissented, citing opposition by groups for trial judges, prosecutors and crime victims. She also cited the lack of research on potential impacts on third parties — such as victims' and defendants' families — of "deeply personal, embarrassing, or hurtful details" that can come out at trial.
"Consider the parent of an adult victim in a sexual assault case being forced to publicly encounter, explain, and confront the harrowing details of their child's assault because the trial was livestreamed; or imagine the child of a defendant who has to endure their parent being constantly vilified in the media, or questions from classmates or co-workers about gruesome details from their parent's case," she wrote.
McKieg also said there's a lack of information on how the changes may affect communities of color — and public perceptions of them. She pointed out that the televised trials of Chauvin, and former suburban Officer Kim Potter, involved white defendants. She said there's no data on how perceptions would have been affected had those trials involved defendants of color.
Kirtley said it will now be up to the media to make the case to judges that allowing coverage will serve the public interest.