Michael J. Fox says he doesn't feel sorry for himself because of Parkinson's disease: 'No regrets'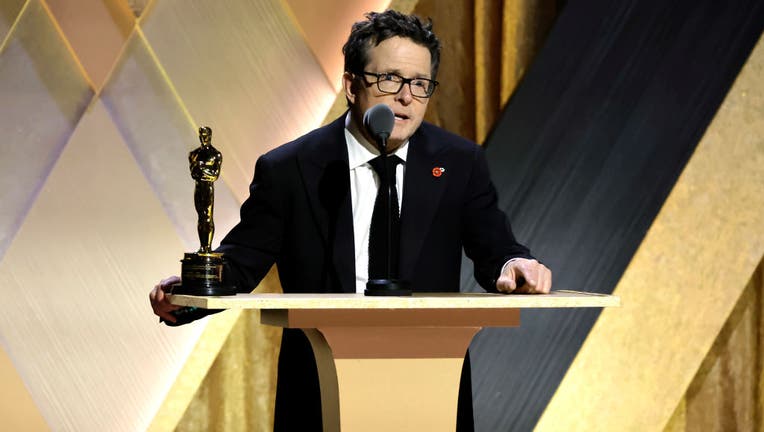 article
Michael J. Fox is redefining what a diagnosis with Parkinson's disease looks like – not dwelling on the disorder that effects his nervous system.
While in Austin at the SXSW festival where he is showcasing his documentary "Still: A Michael J. Fox Movie," Fox was asked how he "mobilized" people to be passionate about the cause so close to his heart.
"I didn't have a choice… This is it. I have to give everything I have, and it's not lip service. I show up and do the best I can," he said, per People magazine.
"Pity is a benign form of abuse. I can feel sorry for myself, but I don't have time for that. There is stuff to be learned from this, so let's do that and move on," he added.
MICHAEL J. FOX ACCEPTS HONORARY OSCAR AWARD FOR PARKINSON'S DISEASE ADVOCACY AND RESEARCH
From director David Guggenheim, the documentary is described as highlighting "Fox's personal and professional triumphs and travails, and will explore what happens when an incurable optimist confronts an incurable disease."
"David said early on, 'I want to cover Parkinson's, but I don't want to make a movie about Parkinson's.' He made a movie about life," Fox clarified of his director's vision. "He made a conscientious decision not to make a movie about Parkinson's."
MICHAEL J. FOX REVEALS HE HAS SUFFERED MULTIPLE BROKEN BONES OVER THE PAST YEAR: 'IT'S BEEN A STRUGGLE'
Fox's transparency with the disease is something he attributes to his fans,
"My fans have basically given me my life," he shared. "I wanted to give these people who have done so much for me my time and gratitude. It was great for me to hear from all of you."
CLICK HERE TO SIGN UP FOR THE ENTERTAINMENT NEWSLETTER
"Parkinson's sucks, but it's a great life, so thank you for it," Fox directly told Guggenheim.
Fox was diagnosed with Parkinson's disease when he was 29 years old in 1991, only going public with his diagnosis in 1998.
In 2000, the "Back to the Future" star launched the nonprofit Michael J. Fox Foundation, which strives to find a cure for Parkinson's. The foundation has led to over a dozen clinical trials and therapeutic programs. The foundation is a resource for those who have been previously diagnosed or are newly diagnosed.
CLICK HERE TO GET THE FOX NEWS APP
In an interview with People magazine in 2020, Fox said acting had become increasingly difficult because the disease affects his speech and memory, making it hard to learn lines. 
Despite the challenges, Fox admits he lives with "no regrets" by choosing to work after learning of his diagnosis.
Read more of this story from FOX News.