Man sets himself on fire on the Ellipse near the White House, Secret Service says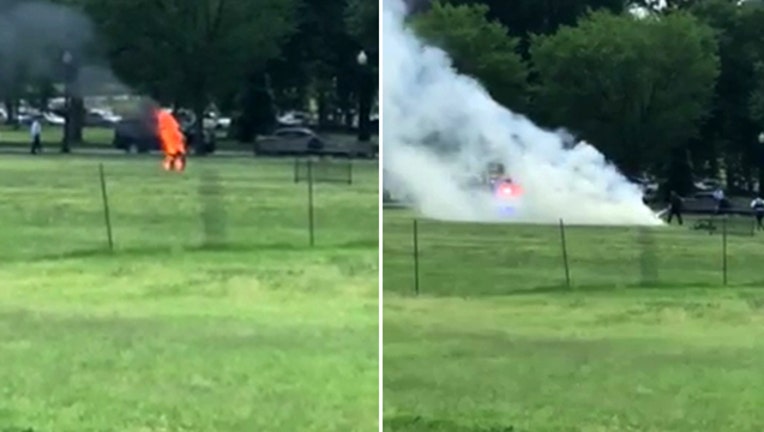 article
WASHINGTON (FOX 5 DC) - WARNING: Some may find the images in this story disturbing in nature
A man set himself on fire on the Ellipse near the White House Wednesday afternoon, according to officials.
The Secret Service said the man lit himself on fire on the Ellipse near 15th Street, NW and Constitution Avenue at about 12:20 p.m.
Witnesses visiting from out of town told FOX 5 they were taking photos of the White House when they noticed a man wearing all black, including a sweatshirt, and carrying a black bag. The witnesses said the sweatshirt stood out to them since it was over 90 degrees in the District on Wednesday.
Witnesses told FOX 5 that the man's sweatshirt had a message written on it, but they could not clearly make out the writing. Video provided by the witnesses shows the man engulfed in flames walking across the Ellipse as crews rush to extinguish the blaze.
The Secret Service assisted the National Park Service and US Park Police in giving first aid to the man.
He was transported to the hospital with life-threatening injuries. A Secret Service officer was also transported due to smoke inhalation. 
Back in April, a man was suffered non-life threatening injuries after he lit his jacket on fire outside of the White House. During that incident, the Secret Service said the man was riding an electronic wheelchair-type scooter when he lit his jacket on fire while sitting outside the White House.
Officers responded to the scene and extinguished that fire within seconds.