Man jumps overboard Carnival cruise ship off Florida's coast, US Coast Guard says
BREVARD COUNTY, Fla. - A 30-year-old man jumped overboard the Carnival Elation cruise ship off the coast of Florida over the weekend, according to the U.S. Coast Guard.
A spokesperson for Carnival Cruise Line said the ship was returning to its home port in Jacksonville, Florida following a four-day sailing to the Bahamas on Sunday when cruise workers were notified that the man was missing.
The U.S. Coast Guard said Carnival's Elation ship was about 95 nautical miles east of Melbourne when the man went overboard. Crews with the Coast Guard have been actively searching for the man.
PREVIOUS CRUISE STORIES:
The cruise line learned the man was missing late Sunday afternoon after another guest he was traveling with said he had not been seen all day. Carnival crews searched for the man on board, but were unable to find him.
After reviewing the ship's surveillance video did they learn that he jumped overboard, Carnival said in a statement.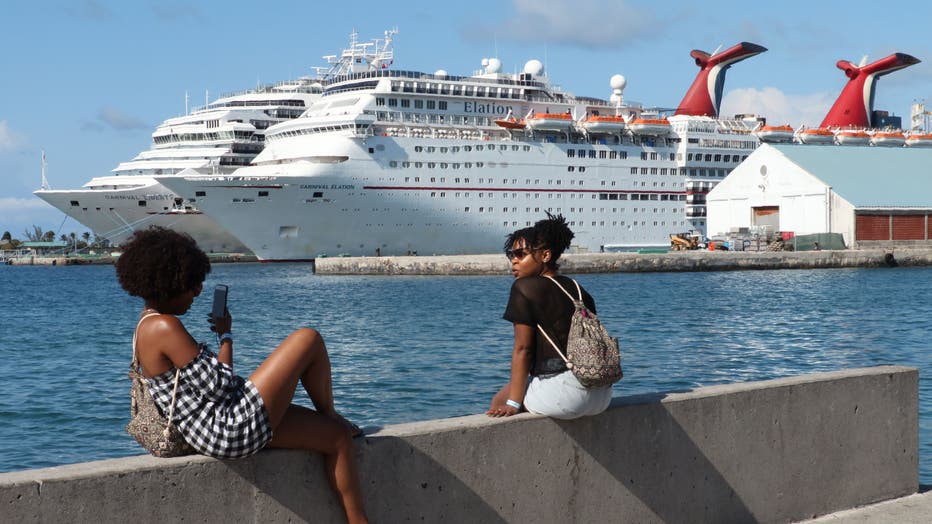 Two ladies take pictures in front of the Carnival cruise ship Elation in Nassau, Bahamas on April 29, 2019. (Photo by Daniel SLIM / AFP) (Photo credit should read DANIEL SLIM/AFP via Getty Images)
Carnival's cruise ship was allowed to continue sailing to Jacksonville, which arrived Monday morning, according to a statement. Authorities along the shore were also notified of the missing man.
Carnival's Elation cruise ship weighs nearly 72,000 tons (71,909 tons), is 855 feet long, can carry up to 2,190 guests, and has 900 crew members on board, according to Carnival's website.