Iran has enough resources to build 'several' atom bombs, UN warns
DUBAI, United Arab Emirates (AP) - Iran has enough highly enriched uranium to build "several" nuclear weapons if it chooses, the United Nations' top nuclear official is now warning. But diplomatic efforts aimed at again limiting its atomic program seem more unlikely than ever before as Tehran arms Russia in its war on Ukraine and as unrest shakes the Islamic Republic.
The warning from Rafael Mariano Grossi of the International Atomic Energy Agency, in response to questions from European lawmakers this week, shows just how high the stakes have become over Iran's nuclear program. Even at the height of previous tensions between the West and Iran under hard-line President Mahmoud Ahmadinejad before the 2015 nuclear deal, Iran never enriched uranium as high as it does now.
For months, nonproliferation experts have suggested Iran had enough uranium enriched up to 60% to build at least one nuclear weapon — though Tehran long has insisted its program is for peaceful purposes. While offering a caveat on Tuesday that "we need to be extremely careful" in describing Iran's program, Grossi bluntly acknowledged just how large Tehran's high-enriched uranium stockpile had grown.
"One thing is true: They have amassed enough nuclear material for several nuclear weapons, not one at this point," Grossi said.
The Argentine diplomat then referred to Benjamin Netanyahu's famous 2012 speech to the United Nations, in which the Israeli prime minister held up a placard of a cartoon-style bomb with a burning wick and drew a red line on it to urge the world to not allow Tehran's program to highly enrich uranium. While the 2015 nuclear deal drastically reduced Iran's uranium stockpile and capped its enrichment to 3.67%, Netanyahu successfully lobbied then-President Donald Trump to withdraw from the accord and set up the current tensions.
"You remember there was to be this issue of the breakthrough and Mr. Netanyahu drawing things at the U.N. and putting lines — well, that is long past. They have 70 kilograms (155 pounds) of uranium enriched at 60%. ... The amount is there," Grossi said. "That doesn't mean they have a nuclear weapon. So they haven't proliferated yet."
But the danger remains. Analysts point to what happened with North Korea, which had reached a 1994 deal with the U.S. to abandon its nuclear weapons program. The deal fell apart in 2002. By 2005 and wary of U.S. intentions after its invasion of Iraq, Pyongyang announced it had built nuclear weapons. Today, North Korea has ballistic missiles designed to carry nuclear warheads that are capable of reaching the U.S.
Iranian diplomats for years have pointed to Supreme Leader Ayatollah Ali Khamenei's preachings as a binding fatwa, or religious edict, that Iran wouldn't seek an atomic bomb. However, Iranian officials in recent months have begun openly talking about the prospect of building nuclear weapons.
Talks between Iran and the West ended in August with a "final text" of a roadmap on restoring the 2015 deal that Iran until today hasn't accepted.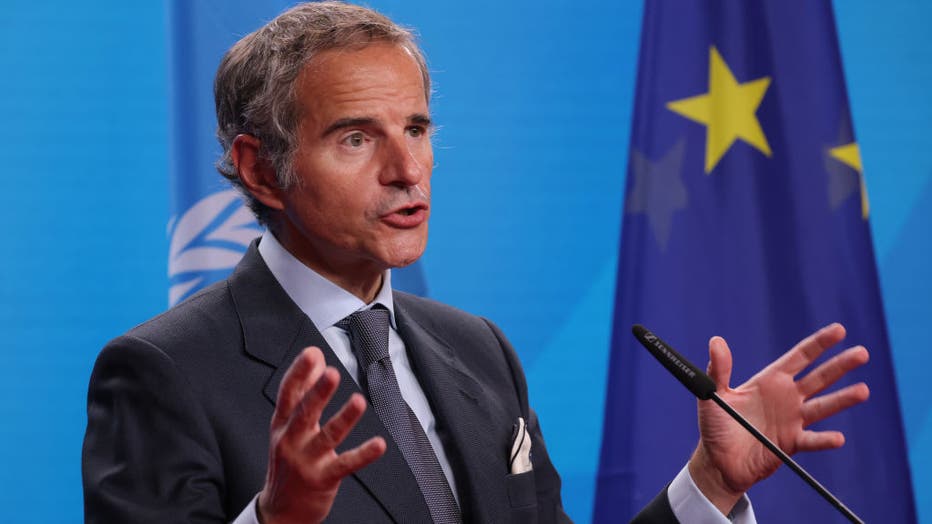 BERLIN, GERMANY - NOVEMBER 15: International Atomic Energy Agency Director General Rafael Grossi speaks to the media during talks with German Foreign Minister Annalena Baerbock on November 15, 2022 in Berlin, Germany. The two discussed the situation
Iran's mission to the U.N., responding to questions about Grossi's remarks, insisted in comments to The Associated Press on Thursday that Tehran "is prepared to stick to its commitments within the framework of the (deal) provided the other parties do the same."
"The Iranian nuclear program has never been about making nuclear weapons and enriching has nothing to do with deviating from it," the mission said, despite Iran accelerating its enrichment after the deal's collapse.
Iranian state television separately quoted Mohammad Eslami, the head of the country's civilian nuclear program, as saying Tehran would welcome a visit by Grossi to the country.
As Iran's rial currency plunges further to historic lows against the dollar amid its crises, Iranian officials including Foreign Minister Hossein Amirabdollahian also have made unsupported claims about American officials agreeing to their demands or frozen money abroad being released.
At the State Department, the denials about Iran's claims have grown more and more pointed.
"We've heard a number of statements from the Iranian foreign minister that are dubious if not outright lies, so I would just keep that broader context in mind when you point to statements from the Iranian foreign minister," State Department spokesperson Ned Price said Monday in a response to a question.
Price and others in President Joe Biden's administration say any future talks with Iran remain off the table as Tehran cracks down on the months-long protests after the death of Mahsa Amini, a young woman detained in September by the country's morality police. At least 527 people have been killed and over 19,500 arrested amid the unrest, according to Human Rights Activists in Iran, a group monitoring the protests.
Another part of the Americans' exasperation — and increasingly of the Europeans as well — comes from Iran arming Russia with the bomb-carrying drones that repeatedly have targeted power plants and civilian targets across Ukraine. It remains unclear what Tehran, which has a strained history with Moscow, expects to get for supplying Russia with arms. One Iranian lawmaker has suggested the Islamic Republic could get Sukhoi Su-35 fighter jets to replace its aging fleeting comprised primarily of pre-1979 American warplanes, though such a deal hasn't been confirmed.
Such fighter jets would provide a key air defense for Iran, particularly as its nuclear sites could increasingly be eyed. Israel, which has carried out strikes to halt nuclear programs in Iraq and Syria, has warned it will not allow Iran to obtain a nuclear bomb.
The U.S. and Israel also launched their largest-ever joint air, land and sea exercise this week with over 140 warplanes, an aircraft carrier group and nearly 8,000 troops called Juniper Oak. The Pentagon described the drill as "not meant to be oriented around any single adversary or threat." However, it comes amid the heightened tensions with Iran and includes aerial refueling, targeting and suppressing enemy air defenses — capabilities that would be crucial in conducting airstrikes.
For now, Grossi said there was "almost no diplomatic activity" over trying to restore the Iran nuclear deal, an agreement he now describes as "an empty shell." But he still urged more diplomacy as Tehran still would need to design and test any possible nuclear weapon.
"We shouldn't give up," he said.
___
EDITOR'S NOTE — Jon Gambrell, the news director for the Gulf and Iran for The Associated Press, has reported from each of the Gulf Cooperation Council countries, Iran and other locations across the world since joining the AP in 2006. Follow him on Twitter at www.twitter.com/jongambrellAP.