Highland Park shooting suspect: Who is Robert E. Crimo III?
CHICAGO - Robert E. Crimo III, the man suspected of opening fire on an Independence Day parade in suburban Chicago on Monday, killing seven people and wounding 30 others, has been charged with seven counts of first-degree murder, officials said.
Following the deadly shooting on July 4, a police officer pulled over Crimo about five miles north of the crime scene, several hours after police released his photo and an image of his silver Honda Fit, authorities said.
Robert Crimo: Social media history paints dark picture of suspect in deadly mass shooting at Illinois parade 
Investigators who have interrogated Crimo and reviewed his social media posts have not determined a motive for the attack. They have also not found any indication that the shooter targeted anyone by race, religion, or other protected status, according to Lake County Major Crime Task Force spokesman Christopher Covelli.  
Crimo was also disguised as a woman at the time of the shooting, according to law enforcement. 
"Investigators do believe he did this to conceal his facial tattoos and his identity and help him during the escape with the other people who were fleeing the chaos," said Covelli. 
The shooting was just the latest to shatter the rituals of American life. Schools, churches, grocery stores and now community parades have all become killing grounds in recent months. This time, the bloodshed came as the nation tried to find cause to celebrate its founding and the bonds that still hold it together. 
"It is devastating that a celebration of America was ripped apart by our uniquely American plague," Illinois Gov. J.B. Pritzker said at a news conference. 
"I'm furious because it does not have to be this way... while we celebrate the Fourth of July just once a year, mass shootings have become a weekly — yes, weekly — American tradition." 
RELATED: Robert Crimo's weapon was 'legally obtained': Highland Park mayor
Highland Park shooting suspect: Everything we know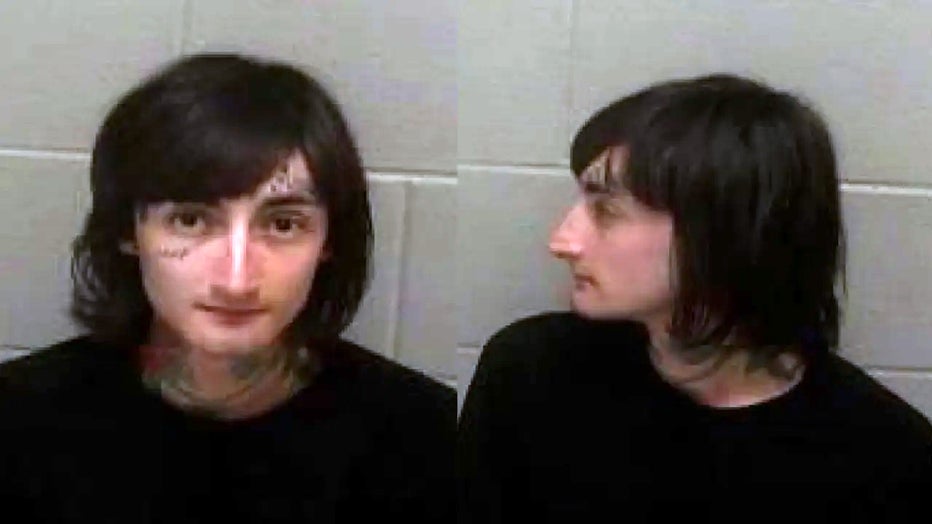 Robert Crimo booking photo, via Highland Park police
Investigators said during a news conference on Tuesday that Crimo used a high-powered rifle "similar to an AR-15" to spray bullets from atop a commercial building into the parade crowd. More than 70 rounds were fired.  
The gunshots were initially mistaken for fireworks before hundreds of panicked revelers fled in terror in Highland Park, a close-knit community on the shores of Lake Michigan. The shooting occurred at a spot on the parade route where many residents had staked out prime viewing points early in the day for the annual celebration. 
Lake County State's Attorney Eric Rinehart said the suspect, if convicted of the first-degree murder charges, would receive a mandatory life sentence without the possibility of parole. He promised that dozens more charges would be sought.
The assault happened less than three years after police went to Crimo's home following a call from a family member who said he was threatening "to kill everyone" there. Covelli said police confiscated 16 knives, a dagger and a sword, but said there was no sign he had any guns at the time, in September 2019.
Police in April 2019 also responded to a reported suicide attempt by the suspect, Covelli said.
The suspect legally purchased the rifle used in the attack in Illinois within the past year, Covelli said. In all, police said, he purchased five firearms, which were recovered by officers at his father's home.
The revelation about his gun purchases is just the latest example of young men who were able to obtain guns and carry out massacres in recent months despite glaring warning signs about their mental health and inclination to violence.
Illinois state police, who issue gun owners' licenses, said the gunman applied for a license in December 2019, when he was 19. His father sponsored his application.
At the time "there was insufficient basis to establish a clear and present danger" and deny the application, state police said in a statement.
An FBI wanted poster shared after the shooting described Crimo as a thin White male with brown eyes and neck-length brown hair, weighing 120 pounds. The poster also described his tattoos: "four tally marks with a line through them on his right cheek, red roses and green leaves on his neck, and cursive script above his left eyebrow."
Authorities initially said Crimo was 22, but an FBI bulletin and Crimo's social media said he was 21.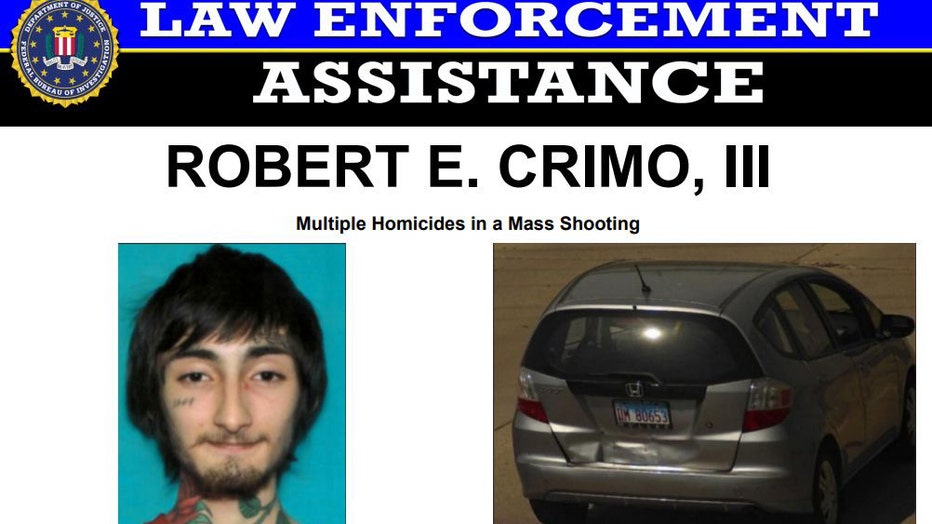 FBI released photo of Robert E. Crimo, III and a photo of his car and license plate.  (FBI)
Crimo was an aspiring rapper with the stage name "Awake the Rapper." An IMDB page states that Crimo is a "six-foot Hip Hop phenom" born on Sept. 20, 2000. "He's the middle child of three and of Italian descent," the page reads. 
Crimo began uploading his music to the internet at age 11 but first gained traction with his 2016 track "By The Pond," according to IMDB. 
The rapper released a cryptic track called "Are You Awake" on Oct. 15, 2021. The track appears to suggest that Crimo was planning a life-defining act beyond his ability to stop. The video includes drawings of a man aiming a rifle at another person. 
Crimo is the son of Bob Crimo, president at Bob's Pantry & Deli in Highland Park. According to his Facebook account, the father ran for Highland Park mayor in 2020.
'Very random, very intentional'
Forty-five people were injured or killed in the attack on Monday. The Lake County Coroner's Office on Tuesday identified six of the seven victims who died in the attack.
Katherine Goldstein, 64, of Highland Park
Irina McCarthy, 35, of Highland Park
Kevin McCarthy 37, of Highland Park
Jacquelyn Sundheim, 63, of Highland Park
Stephen Straus, 88, of Highland Park
Nicolas Toledo-Zaragoza, 78, of Morelos, Mexico
The seventh victim died at a hospital outside of Lake County. 
RELATED: What we know about the July 4th parade shooting victims 
NorthShore University Health Center received 26 patients after the attack. All but one had gunshot wounds, said Dr. Brigham Temple, medical director of emergency preparedness. Their ages ranged from 8 to 85, and Temple estimated that four or five were children. 
The shooter opened fire around 10:15 a.m. when the parade was about three-quarters through, authorities said. 
Highland Park Police Commander Chris O'Neill, the incident commander on scene, said the gunman apparently used the rifle to fire from a spot atop a commercial building where he was "very difficult to see." He said the rifle was recovered at the scene. Police also found a ladder attached to the building. 
"Very random, very intentional and a very sad day," Covelli said.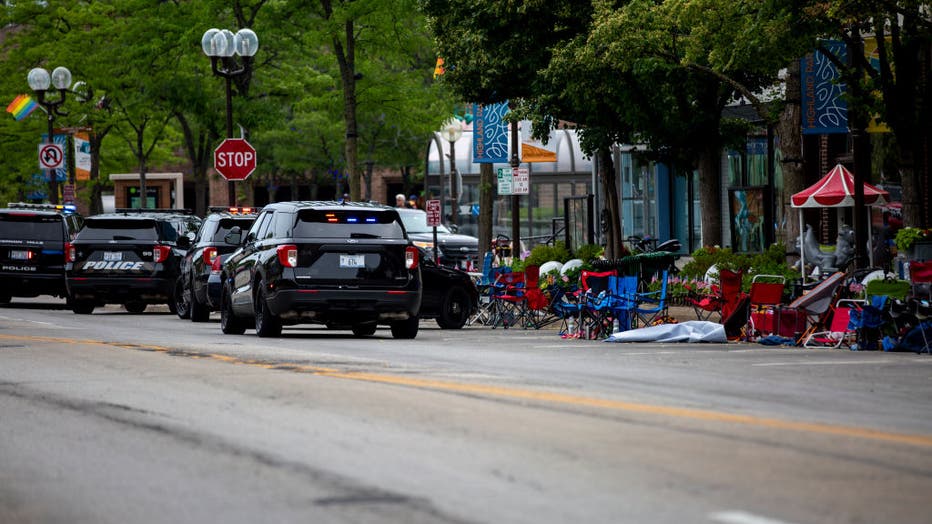 HIGHLAND PARK, IL - JULY 04: First responders work the scene of a shooting at a Fourth of July parade on July 4, 2022 in Highland Park, Illinois. (Photo by Jim Vondruska/Getty Images)
More than 100 law enforcement officers were called to the parade scene or dispatched to find the shooter. 
Highland Park is a close-knit community of about 30,000 people located on the shores of Lake Michigan just north of Chicago, with mansions and sprawling lakeside estates that have long drawn the rich and sometimes famous, including NBA legend Michael Jordan, who lived in the city for years when he played for the Chicago Bulls. John Hughes filmed parts of several movies in the city, including "Ferris Bueller's Day Off," "Sixteen Candles" and "Weird Science." 
This story was reported from Cincinnati and Los Angeles. The Associated Press contributed.