Gophers beat Miami of Ohio 26-3, move to 3-0 on the season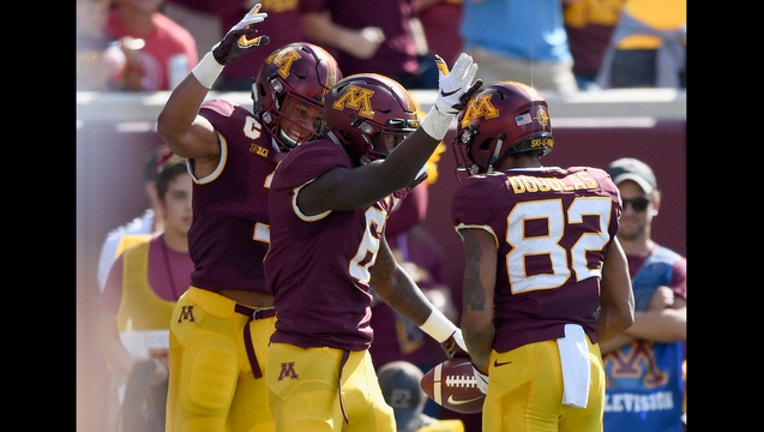 MINNEAPOLIS, Minn. (AP) - Zack Annexstad threw two short touchdown passes to Tyler Johnson, and freshman Bryce Williams had 176 yards total offense as Minnesota beat Miami (Ohio) 26-3 on Saturday.
Annexstad completed 12 of 20 throws for 142 yards in his third collegiate start and was resting on the sideline by the third quarter. Williams had 33 rushes for 141 yards as featured back in place of Rodney Smith, who suffered a season-ending knee injury last week against Fresno State.
With fellow true freshman Annexstad under center, Williams and the young Gophers (3-0) looked the more-seasoned squad against older-but-injured Miami. The RedHawks (0-3) lost three offensive starters in the first half, including leading receivers Kenny Young and James Gardner.
With the RedHawks again struggling to run -- they had 91 rushing yards and still haven't broken 100 yards on the ground this year -- the Gophers steadily moved the ball and wore down Miami's defense on a steamy 90-degree afternoon.
Williams carried seven times for 40 yards on Minnesota's opening drive, capped by Annexstad's 7-yard touchdown pass to Johnson to give the Gophers a 7-0 lead. Williams also gained 35 yards on a screen pass on third-and-17 late in the first half, helping to set up Johnson's second touchdown -- a 7-yard toss from Seth Green. The junior wideout caught nine balls for 133 yards.
Gus Ragland completed 11 of 20 passes for 108 yards and an interception that set up the second Annexstad-to-Johnson touchdown in the third to make it 26-3.
THE TAKEAWAY
This is not the way Miami wanted to end its non-conference schedule. After a respectable season-opening loss to Marshall, the RedHawks are reeling after a 21-0 loss to Cincinnati and Saturday's sputtering performance in Minneapolis. Now they'll head into conference play wondering about the status of their starting running back (Young), top receiver (Gardner) and starting right tackle Tommy Doyle.
Annexstad continues to impress for Minnesota, and the Gophers appear to have caught a break with Williams as a more-than-viable alternative to Smith. The question is whether the two true freshmen, plus a host of redshirt freshmen and sophomores, will fare against Big Ten competition.
UP NEXT
The RedHawks have their best chance to get on track offensively, opening the first two weeks of Mid-American conference play against struggling defenses. Miami travels to Bowling Green next week, which entered the weekend having given up 103 points -- second-worst in the conference. The following week's opponent, Western Michigan, had allowed 104.
The Gophers find themselves in the same spot as last year - 3-0 and preparing to face Maryland for their Big Ten opener. They'll try to avoid a repeat of last season, when their 31-24 loss started a string of three straight defeats. Minnesota finished losing seven of nine.