Full text exchange between lobbyist and St. Paul City Councilman Dai Thao's campaign manager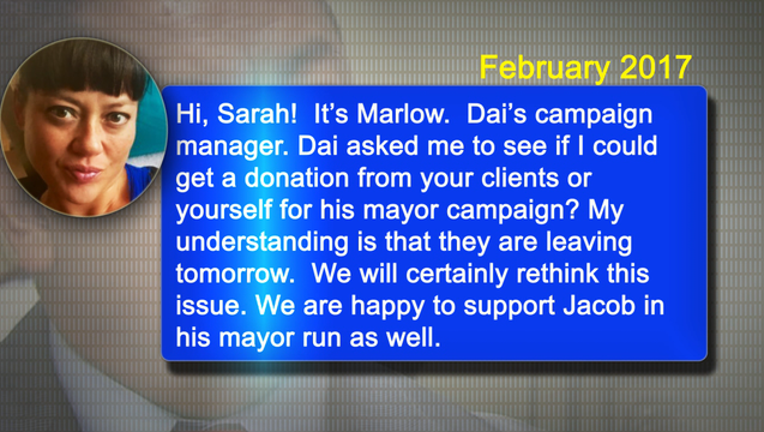 article
ST. PAUL, Minn. (KMSP) - EDITORS NOTE:  This is the full text exchange between St. Paul City Councilman Dai Thao's former campaign manager, Angela Marlow, and lobbyist Sarah Clarke.  The Jacob referred to in the exchange is Clarke's husband, Jacob Frey, a Minneapolis City Councilman who is currently running for Mayor of Minneapolis. Marlow is also a AFSCME Union President of Local 8, representing Ramsey County employees.  She is also a support enforcement agent for the Ramsey County Attorney's Office.
Wed., Feb. 22, 8:53 p.m.
MARLOW:
Hi, Sarah!  It's Marlow.  Dai's campaign manger. Dai asked me to see if I could get a donation from your clients or yourself for his mayor campaign? My understanding is that they are leaving tomorrow.  We will certainly rethink this issue.  We are also happy to support Jacob in his mayor's run as well.
CLARKE:
Thank you for the note and thank you for setting up the meeting….
Because this is an issue that is coming before the council, want to make sure we are not in violation of campaign finance laws. Let me check on that and get back to you.
MARLOW:
No problem.! Thanks for the quick response.  Life of the campaign manager (sic).  I get the icky work!
MARLOW:
As a union leader for all the Ramsey workers we can endorse so keep me in mind if Jacob needs it.  I've watched his work and am supportive!
CLARKE:
Thanks for the kind words?  And of course, for the work you are doing.
Friday, Feb. 24, 10:12 a.m.
CLARKE:
Following on your contribution request, I think that the timing of the issue coming before the council along with a campaign contribution could be misperceived as a bribe under Minnesota Statute 609.42.  I believe this is neither your intent, nor CM Thao's intent.  To keep everything above board, both my client and I will refrain from making a contribution at this time. 
MARLOW:
Thanks for the info!
CLARKE:
Thanks for understanding!
Monday, March 13
MARLOW: 
"Sorry about any confusion.  There obviously no link intended. Dai was happy to meet with you. To avoid any confusion in the future, please direct any meeting about policy matters to Dai's city council office. I am not abreast of that information."
LOBBYIST: 
"I understand, I reached out to him on this as a campaign issue because it is but it's also something he will vote on. I just wanted to be clear we were on the same page."