Elon Musk cleared of wrongdoing in trial over 2018 Tesla tweet
SAN FRANCISCO - Elon Musk has been cleared of any wrongdoing on claims he defrauded Tesla investors.
Musk, 51, was accused of defrauding investors after tweeting he was considering taking the company private more than four years ago after he said he secured funding to make such a deal.
The verdict comes by the nine jurors after less than two hours of deliberating after the three-week trial, The Associated Press reported.
The civil trial comes after Tesla investors filed a class-action lawsuit against the billionaire, saying he misled shareholders in 2018 that they say cost them billions of dollars after a pair of Musk's tweets regarding the deal being confirmed and the company going private.
PREVIOUS COVERAGE: 
The first tweet read "funding secured;" hours later Musk tweeted that the deal was imminent.
After these two tweets, Twitter's stock surged over the course of 10 days, only for Musk to fall back on the deal that indicated he never had guaranteed financial backing.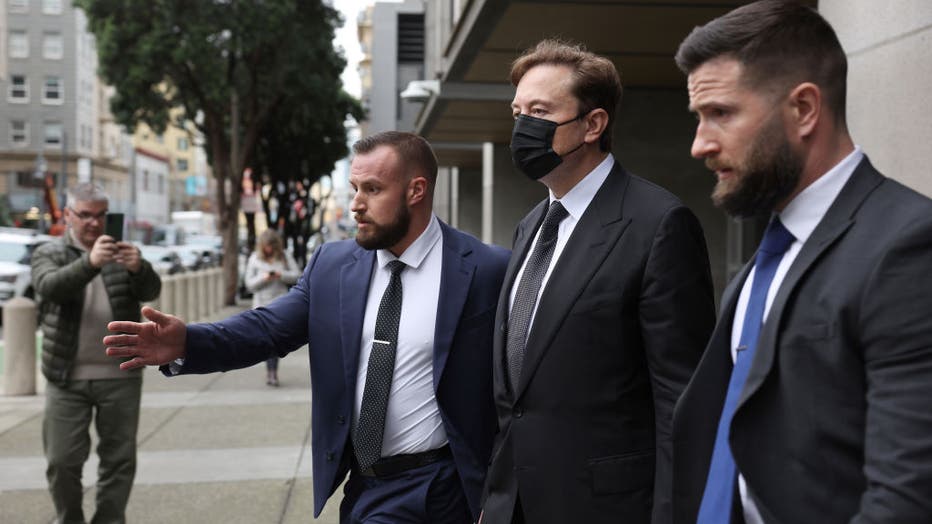 SAN FRANCISCO, CALIFORNIA - FEBRUARY 03: Tesla CEO Elon Musk (C) leaves the Phillip Burton Federal Building on February 03, 2023 in San Francisco, California. Closing arguments have wrapped up in the trial where investors are suing Tesla and Elon Mus
"Thank goodness, the wisdom of the people has prevailed!" Musk tweeted Friday afternoon.
Despite not being required, Musk showed up in court for the closing arguments. Had he been liable and determined to have committed wrongdoing, Musk and Tesla would have had to pay billions in damages.
"Our society is based on rules…we need rules to save us from anarchy. Rules should apply to Elon Musk like everyone else," said Nicholas Porritt, a lawyer for the Tesla shareholders. 
Porritt also accused Musk of having a "loose relationship with the truth."
Musk's own attorney, Alex Spiro, admitted to the 2018 tweets being "technically inaccurate," but said a "bad tweet doesn't make it a fraud."
Musk had initially believed he had the funding secured from Saudi Arabia's Public Investment Fund to take the company private, eight years after it was publicly held. Musk defended his tweets as well-intentioned and "had no ill motive."
"My intent was to do the right thing for all shareholders," Musk said in a testimony. 
Porritt disclosed his disappointment on the verdict, saying in part "People can draw their own conclusion on whether they think it's OK or not."
Porritt also disagreed with the notion that Musk could've genuinely believed he had a firm commitment to financial backing after a short meeting at the Tesla factory in July 2018, with no written documentation with Saudi Arabia's wealth fund governor.
"I am deeply appreciative of the jury's unanimous finding of innocence in the Tesla 420 take-private case," Musk announced on Twitter, a company he also owns.
Michael Liedtke with The Associated Press contributed to this report.