Eden Prairie officer stops Fox 9 team to ensure safety on day of WDBJ-TV shooting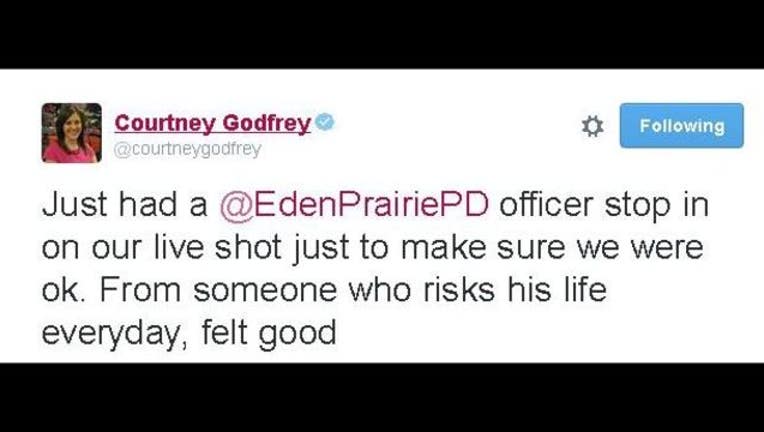 article
(KMSP) - On the day a Virginia news team was fatally shot during a live broadcast, a Minnesota police officer, who also risks his life every day, stopped a Fox 9 live shot to make sure his local media was ok. 
 
General manager Jeffrey A. Marks of WDBJ-TV in Virginia confirmed a reporter and photojournalist were shot and killed in Moneta, Va. Marks called the murders of Alison Parker and Adam Ward "a terrible crime against two fine journalists."

Fox 9's newest reporter Courtney Godfrey was reporting on the shooting when an Eden Prairie police officer stopped to ensure she and her photojournalist were alright.

Godfrey, her photographer and live truck operator were live in a public park. The officer pulled up, the news crew told him they were about to be live in about 30 seconds. He waited.
"When we walked over, he just said he wanted to make sure we were okay considering what happened today. He acknowledged that it must be a scary day for us. We said it was, but we realize we don't take the kind of risk they take every day," Godfrey said. "It was extremely thoughtful, and moving."
On Wednesday morning, Parker was standing during an interview with chamber of commerce executive director Vicki Gardner about tourism on Bridgewater Plaza in Franklin County, Virginia when at least 8 shots were fired. The camera dropped to the ground.