Driver arrested after police chase, driving wrong way on highway in Brooklyn Center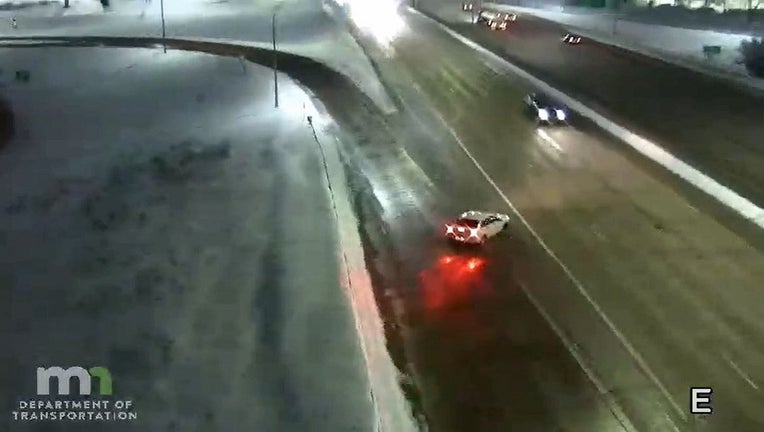 article
BROOKLYN CENTER, Minn. (FOX 9) - Law enforcement arrested the driver of a stolen vehicle after leading police on a chase and driving the wrong way on a highway in Brooklyn Center, according to authorities. 
The chase began Thursday evening after deputies with the Minnesota State Patrol pursued the driver of a stolen car. The Brooklyn Center Police Department said the vehicle was seen on multiple occasions driving erratically on the highways.
At one point, the vehicle was driving into oncoming traffic and was seen on camera turning around near the ramp to go with the flow of traffic. The driver also nearly struck a Hennepin County deputy squad car, according to police. 
Highway traffic camera caught the driver exit onto city streets near Brooklyn Boulevard, and law enforcement found the vehicle abandoned near 50th Avenue North and Lilac Drive. 
As officers began setting up a perimeter, police said dispatch found the driver on camera carjacking another car near 47th Avenue North and Drew Avenue North. The driver went up to a person sitting in his car while on a lunch break and asked the person to get him out of the area. The person said he couldn't leave, and the driver allegedly pulled a gun and pointed it at the victim's head, threatening to kill him, according to the charging document.
The victim exited his vehicle, and the driver got in the car and drove away, later crashing the car into a snow bank. 
Police said the driver "did not cooperate for an extensive period of time." Law enforcement fired foam rounds at the driver's window, and eventually, the driver exited the car and surrendered. Police said they located a replica firearm in the backseat of the car. 
"We are extremely fortunate that nobody was injured in this entire incident and are very thankful to have assisting agencies to help bring incidents like these, to an end," the department said. 
The driver, identified as 27-year-old Shawn Franklin Sunt, was charged with first-degree aggravated robbery. He is currently in custody at Hennepin County Jail and is scheduled to make his first court appearance on Monday.