Dr. Walter Palmer's Marco Island home vandalized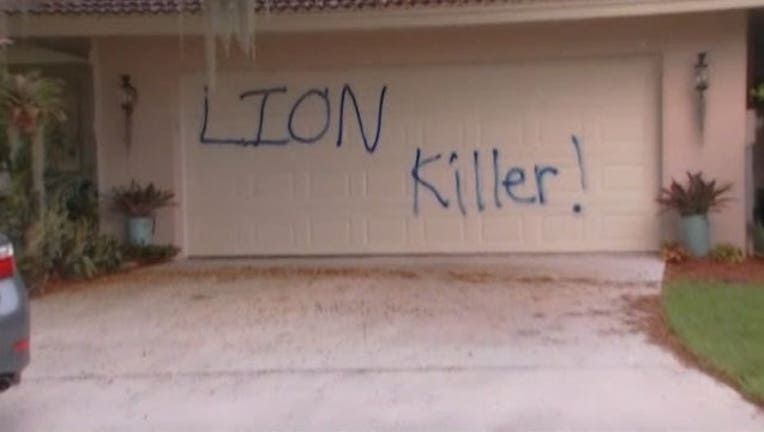 article
MARCO ISLAND, Fla. (KMSP) - Vandals spray-painted the words "lion killer" on the Marco Island, Florida home of Minnesota dentist Walter Palmer. The vandals also left behind animal crackers and bloody pigs' feet. Dr. Palmer admitted to shooting the famed Cecil the lion during a July hunt near Zimbabwe's Hwange National Park, but said he relied on his licensed guides and thought the hunt was legal under local rules.
It's not known who vandalized the property, but it is believed the incident occurred early Tuesday morning. The Palmer family has hired a private investigator to look into this crime.
Hunting guide's trial postponed
A trial has been postponed for the professional hunter who helped Dr. Palmer slay Cecil the lion in Zimbabwe. Theo Bronkhorst appeared in court in Hwange town on Wednesday on charges of failing to prevent an unlawful hunt. A conviction could mean 15 years in prison, but Bronkhorst's lawyer asked for the trial to be postponed to Sept. 28 to prepare the case. The court session lasted a few minutes, but Bronkhorst told reporters the case is "frivolous" and "wrong" and said he believed he hadn't engaged in any illegal activity.
Dr. Palmer's statement to media
"In early July, I was in Zimbabwe on a bow hunting trip for big game. I hired several professional guides and they secured all proper permits. To my knowledge, everything about this trip was legal and properly handled and conducted. I had no idea that the lion I took was a known, local favorite, was collared and part of a study until the end of the hunt.
I relied on the expertise of my local professional guides to ensure a legal hunt. I have not been contacted by authorities in Zimbabwe or in the U.S. about this situation, but will assist them in any inquiries they may have. Again, I deeply regret that my pursuit of an activity I love and practice responsibly and legally resulted in the taking of this lion."