DNR officers pull man from mud hole 20 hours after ATV crash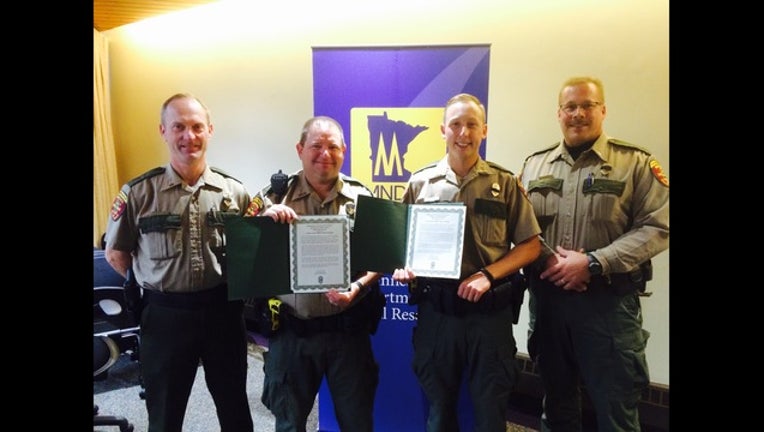 article
HOYT LAKES, Minn. (KMSP) - John Lind left his home in Hoyt Lakes, Minn. on a planned 5-mile ATV ride to Aurora, Minn. on Sept. 16, but said, "I didn't know the trail and got lost." The next day, Minnesota DNR conservation officers Sean Williams and Marc Hopkins were called in to help emergency responders find the 77-year-old man.
Concern for Lind's well-being was escalating due to his age and the fact that he had no diabetic supplies with him when he started his ride. During the time he was missing, there was on-and-off rain, heavy downpours and cool fall temperatures.
When the conservation officers arrived to join the search, Curt Erickson of the St. Louis County Volunteer Rescue Squad said, "The game wardens are here, so now we'll find him."
"Their dogged determination, always being prepared, and willingness to be involved make conservation officers great team players in rescue operations," Erickson said.
Hopkins and Williams noticed the area had already been trampled by search and rescue teams, but they found a faint ATV trail that split off from the main trail system. The trail continued through a "brush-choked, swampy area" that led to a creek where Williams and Hopkins found Lind's ATV, still running, with its front wheels stuck in the muddy water.
Lind had been thrown from his ATV and was stuck in a wet, chest-deep mud hole, unable to move. He was conscious and able to talk with his rescuers, but was showing signs of hypothermia after spending more than 20 hours in cold, wet mud with nothing but shorts, a t-shirt and sandals.
"The mud just sucked me down, Lind said. "I couldn't get any footing to get myself out." 
Williams and Hopkins pulled Lind from the mud hole and wrapped their jackets around him for warmth.
"Williams joked he didn't come to find me, but check my ATV license, which I found pretty funny," Lind said.
The Minnesota Department of Natural Resources has presented conservation officers Sean Williams and Marc Hopkins with the DNR Lifesaving Award for their roles in Lind's rescue. Lind said he'll be back on his ATV once it's repaired, but won't be riding alone anymore.