DASH CAM: Dump truck plows into stopped traffic on Hwy. 13 in Burnsville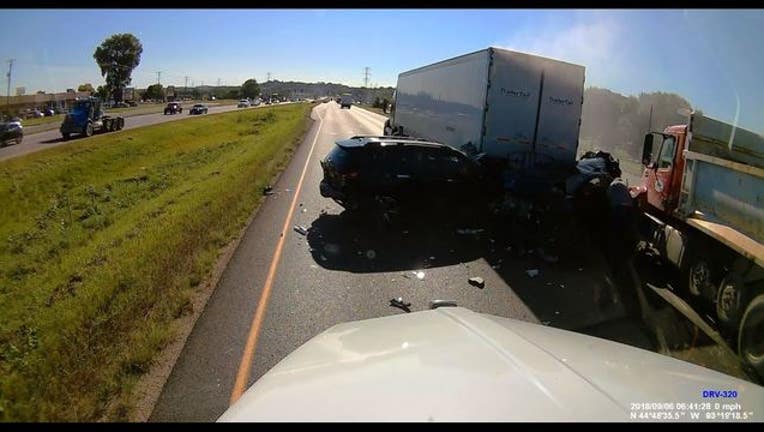 article
BURNSVILLE, Minn. (KMSP) - Dash camera video from a nearby semi-truck captured a crash on Highway 13 in Burnsville last Thursday where a dump truck failed to notice stopped traffic at an intersection and slammed into several cars. 
The crash occurred at the intersection of Highway 13 and Washburn Avenue at 9:40 a.m., according to Minnesota State Patrol spokesperson Tiffani Nielson. The semi-truck driver who posted the dash cam video was traveling northbound in the left-hand lane of northbound Highway 13. The video shows a dump truck traveling in the same direction one lane over. 
There was a long line of cars at dead stop in the right-hand lane when the dump truck approached. The dump truck driver, a 48-year-old Owatonna man, failed to stop and struck a 2005 Toyota Sienna, then a 2014 Ford Expedition. The impact pushed the Expedition into a semi in front of it. 
The drivers of both the Toyota Sienna and the Ford Expedition, a 54-year-old Savage woman and a 49-year-old Chicago man, were taken to the hospital with non-life-threatening injuries. There were no passengers in any of the vehicles. The 48-year-old driver of the dump truck and the driver of the semi were not injured. 
The driver of the dump truck was not impaired, but he was cited for failing to use due care.