Sign-up for more free COVID tests begins today. Here's how to order
At-home COVID-19 tests are once again available to be shipped for free to households across America. 
Beginning Monday, Sept. 25, you can order up to four free tests per household. 
The tests can be ordered in the same fashion as previous batches from the U.S. government – via COVIDTests.gov. Orders will ship free starting the week of October 2 by the United States Postal Service. 
When ordering, you'll be asked to input your name and address. An email address is optional if you'd like to receive tracking information. 
Twelve manufacturers that employ hundreds of people in seven states from California to Maryland were awarded funding to produce 200 million over-the-counter tests to replenish federal stockpiles for government use, in addition to producing enough tests to meet demand for tests ordered online, the Department of Health and Human Services said last week.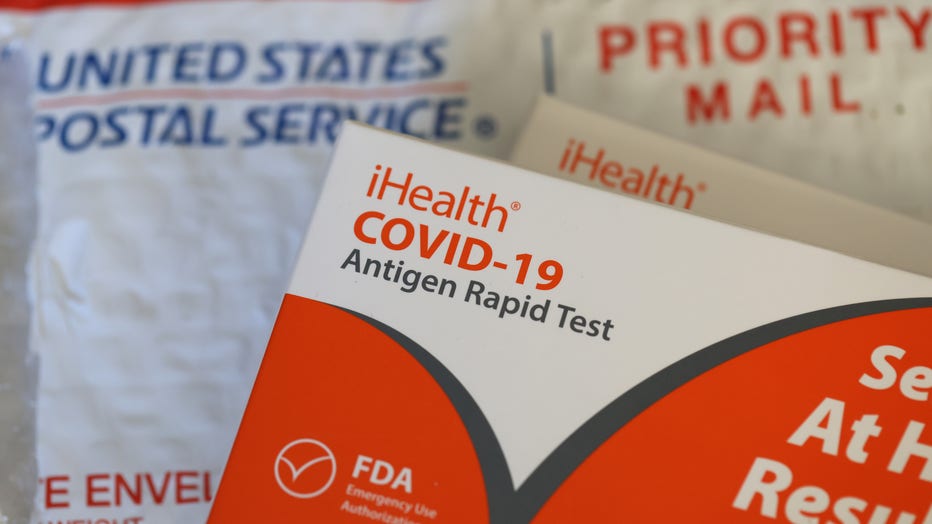 In this photo illustration, free iHealth COVID-19 antigen rapid tests from the federal government sit on a U.S. Postal Service envelope after being delivered on February 04, 2022 in San Anselmo, California. (Photo Illustration by Justin Sullivan/Gett
What to do with expired COVID tests
You may have some old tests still stashed away at home. Before you throw those out to make room for the new ones, you can check if they're still usable despite being expired. 
The FDA has listed out which tests are still usable past the expiration date. You can check if yours is on the list here. 
The new tests being produced in the coming weeks are designed to detect COVID variants currently circulating and are intended to be used by the end of the year, officials said. The tests will also include instructions on how to verify extended expiration dates. 
It's possible you may get older tests that appear to be past their expiration date in the mail, but officials said they are only sending out tests that have received extended expiration dates by the FDA. 
RELATED: US employers expect to see biggest jump in healthcare costs in a decade in 2024
Updated COVID vaccine
A new COVID-19 shot has been endorsed by the federal government for everyone 6 months and older. 
Experts worry that immunity from previous vaccinations and infections is fading in many people, and say a new shot would save many lives.
RELATED: Biden has received the updated COVID-19 vaccine, White House says
The severity of the COVID-19 pandemic has faded, but there are still thousands of hospitalizations and hundreds of deaths in the United States each week.
Doctors hope enough people get vaccinated to help avert another "tripledemic" like last year when hospitals were overwhelmed with an early flu season, an onslaught of RSV, or respiratory syncytial virus, and yet another winter coronavirus surge.
This story was reported from Detroit. The Associated Press contributed.