Bicyclist fatally struck by school bus in Brooklyn Park, Minnesota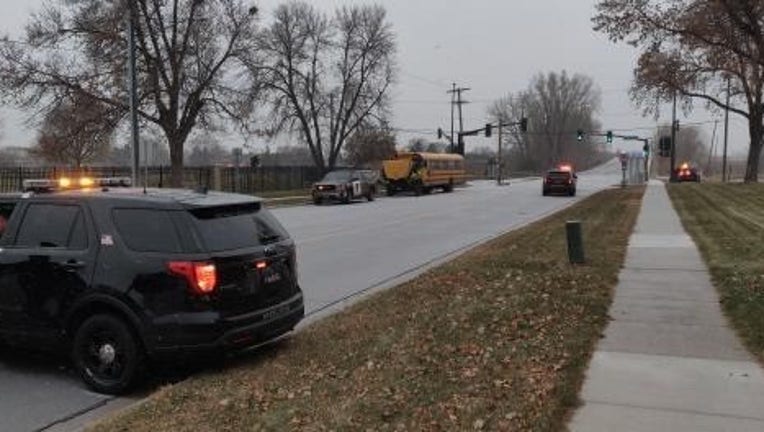 BROOKLYN PARK, Minn. (FOX 9) - A school bus fatally struck a bicyclist early Wednesday morning in Brooklyn Park, Minnesota.
According to police, at about 6:30 a.m., officers responded to a report of a pedestrian struck on Zane Avenue near 65th Avenue. When they arrived, they discovered a school bus hit a middle-aged man on a bike. The man died at the scene.
Brooklyn Park investigators say the bus driver made a right turn at 65th Avenue onto Zane Avenue. Deputy Chief Bruley says the incident happened before snow started falling and the roads were dry. 
"Driver is reporting they had never seen the bicyclist, they completed the right turn and realized, they had hit the bicyclist. And immediately stopped and called 911," said Bruley. "It's horrible. These are significant tragedies that affect everybody."
The students were on their way to Prodeo Academy, a charter elementary school in north Minneapolis. A recording quickly informed all parents of the tragedy students on bus route 14 witnessed. 
The Prodeo Academy provided the following statement: 
"We are aware that a bus carrying seven Prodeo Academy students was involved in a fatal collision with a bicyclist on the morning of November 13. The students and driver were not injured. Our sympathies go out to the family of the victim. The bus is operated by Lake Country Transportation. Brooklyn Park Police are conducting an investigation, as is typical for this type of incident.
"The students were transferred to a different bus and brought safely to school where they were met by social workers and counselors, to provide any needed care and emotional support. We have been in contact with the families of the students who were on the bus as well. We are working to ensure teachers and families have the resources and support they may need to help our students process this traumatic event. We refer any follow-up questions about the incident to the Brooklyn Park Police Department and the Lake Country Transportation bus company."
Fox 9 contacted Lake Country Transportation based out of Loretto. The company's insurance agent said no comment. Meanwhile, police say the driver is cooperating and routine checks for impairment don't indicate anything suspicious. At this point Deputy Bruley points out the investigation will reveal who was at fault, but regardless this is a sad reminder to be extra careful when sharing the road. 
"We really encourage people not to take chances when riding bike or crossing the street as a pedestrian," said Bruley. "Because even if you are right the consequences can be very, very bad if you are hit by a vehicle."