Alec Baldwin criminal charges for fatal 'Rust' shooting to be dropped: lawyers
Criminal charges against Alec Baldwin are expected to be dropped in the October 2021 fatal shooting of "Rust" cinematographer Halyna Hutchins, the actor's lawyers told Fox News Digital.
"We are pleased with the decision to dismiss the case against Alec Baldwin and encourage a proper investigation into the facts and circumstances of this tragic incident," attorneys Luke Nikas and Alex Spiro said in a statement.
The Santa Fe District Attorney's Office didn't immediately respond to Fox News Digital's request for comment.
Baldwin, 64, will see the two counts of involuntary manslaughter against him dropped, his lawyers said.
Hutchins died Oct. 21, 2021, after a gun Baldwin was holding fired on the set of the western "Rust" in New Mexico. The group had been rehearsing a scene, and Baldwin had been practicing cross-drawing the revolver.
The live round struck Hutchins and director Joel Souza.
The news comes as Baldwin returned to the set of "Rust," now in Montana, for the first day of filming Thursday. Principal photography began roughly a year and a half after the production was halted due to Hutchins' on-set death.
"The production will continue to utilize union crew members and will bar any use of working weapons and any form of ammunition," Melina Spadone, attorney for Rust Movie Productions, told Fox News Digital in a statement. "Live ammunition is — and always was — prohibited on set."
CLICK HERE TO SIGN UP FOR THE ENTERTAINMENT NEWSLETTER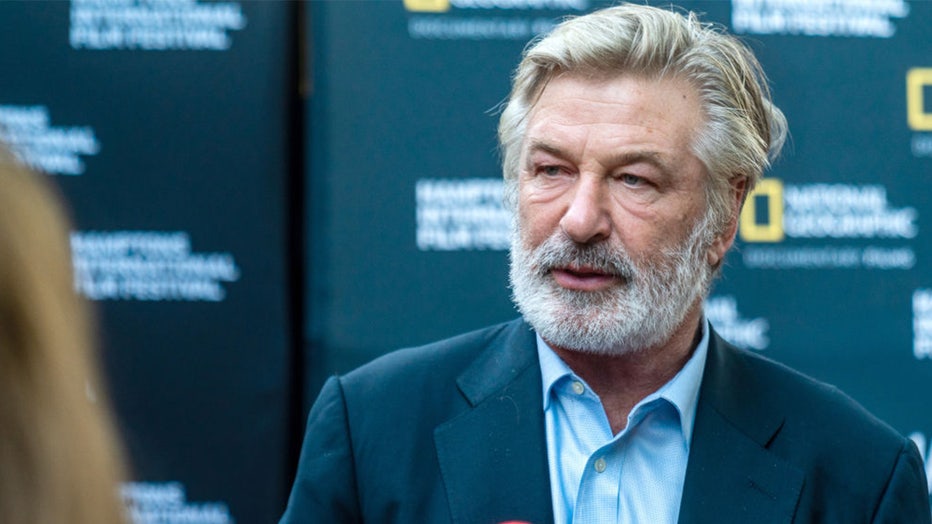 FILE - Hamptons International Film Festival Chairman, Alec Baldwin attends the World Premiere of National Geographic Documentary Films' 'The First Wave' at Hamptons International Film Festival on Oct. 07, 2021, in East Hampton, New York. (Mark Sagliocco/Getty Images for National Geographic)
The Santa Fe County Sheriff's Department spent over a year investigating how live rounds made it onto the movie set. Armorer Hannah Gutierrez-Reed and assistant director Dave Halls were the only other crew members believed to have handled the gun that fired on set.
Halls allegedly handed Baldwin a .45 revolver, telling him that it was "cold," or safe. Prior to that, Gutierrez-Reed spun the cylinder to show Halls what was in the gun, her lawyer said.
Halls accepted a plea deal while Gutierrez-Reed was charged with involuntary manslaughter. The armorer's lawyer told Fox News Digital on Thursday the charges against Gutierrez-Reed have not been dropped.
"The new special prosecutor team has taken a very diligent and thorough approach to the entire investigation, which we welcome and have always welcomed," Gutierrez-Reed's lawyers Jason Bowles and Todd Bullion told Fox News Digital.
"They are seeking the truth, and we are also," the statement continued. "The truth about what happened will come out, and the questions that we have long sought answers for will be answered. We fully expect at the end of this process that Hannah will also be exonerated."
Throughout the investigation, Baldwin has maintained that he did not pull the trigger of the gun, including once during a primetime interview shortly following the deadly shooting and again on a podcast episode. The actor originally said he had pulled the hammer of the gun back as far as he could and released it but did not pull the trigger.
It took 15 months for the prosecution to bring charges against Baldwin, who was formally charged Jan. 31.
Special prosecutors Kari Morrissey and Jason Lewis were weeks away from having to show a judge there was enough evidence for a reasonable person to convict Baldwin at a preliminary hearing expected to last two weeks.
Baldwin had waived his first appearance in court and chose to waive his appearance at the upcoming preliminary hearing. The "mini-trial" was scheduled to begin May 3.
"By waiving his first appearance in court, he's sending a signal that this is a case that really ought not be taken seriously, even though it is obviously an extremely serious case. He's facing a great deal of prison time," criminal defense attorney and former state prosecutor Duncan Levin previously told Fox News Digital. "It's just a case that absolutely was overcharged in every way."
Leading up to the decision to drop the charges, the prosecution has dealt with a number of issues. Originally, Baldwin had been hit with a firearms enhancement that carried a five-year minimum prison sentence. The charge was removed after Baldwin's legal team argued it was "unconstitutional." The enhancement had not been part of New Mexico law at the time the shooting took place.
Later, the original special prosecutor was removed, and District Attorney Mary Carmack-Altwies stepped down. Baldwin's lawyer argued Rep. Andrea Reeb could not simultaneously serve as the special prosecutor and as a member of the New Mexico House of Representatives.
Two new special prosecutors — Morrissey and Lewis — were assigned to the case.
Last week, Baldwin requested a wrongful death lawsuit filed against him by the family of Hutchins be dismissed with prejudice. A wrongful death lawsuit was previously filed against Baldwin and other key members of the production on Feb. 15, 2022, by Hutchins' husband Matthew Hutchins. The cinematographer's mother, father and sister were not included.
CLICK HERE TO GET THE FOX NEWS APP
Matthew sued for punitive damages and funeral and burial expenses among other matters to be determined at trial. However, on Oct. 5, he announced the civil lawsuit had been settled pending court approval.