7,000 nurses on strike at 2 NYC hospitals
NEW YORK - More than 7,000 nurses at two hospitals in New York City are on strike for a second day in a dispute over pay and staffing levels.
The walkout involves as many as 3,500 nurses at Montefiore Medical Center in the Bronx and around 3,600 at Mount Sinai Hospital in Manhattan.
The walkout is going to cause problems for patients and disruptions for people making emergency room visits.  The hospitals plan to assign managers not represented by the union to cover nursing shifts.
Governor Kathy Hochul unsuccessfully called on the hospitals and nurses to enter binding arbitration, which would have meant that the nurses would still go to work while negotiations continue. 
"Yet there remain outstanding issues at Montefiore and Mount Sinai and I am now calling for binding arbitration so that all parties can swiftly reach a resolution," Hochul wrote in a statement Sunday night. "The New York State Department of Health will continue to enforce staffing requirements under the law at these hospitals to maintain the delivery of essential health care services to the community and protect patient health and safety. Likewise, the Health Department will continue to ensure that all providers are meeting the requirements of the law." 
RELATED: Negotiations drag on as NYC hospitals brace for nurses strike
While both Montefiore and Mount Sinai hospitals welcomed the arbitration, the nurses' union responded: 
"We welcome the Governor's support in fighting for fair contracts that protect our patients, and we will not give up on our fight to ensure that our patients have enough nurses at the bedside. We call on Gov. Hochul to join us in putting patients over profits and to enforce existing nurse staffing laws. Gov. Hochul should listen to frontline COVID nurse heroes and respect our federally-protected labor and collective bargaining rights. Nurses don't want to strike. Bosses have pushed us to strike by refusing to seriously consider our proposals to address the desperate crisis of unsafe staffing that harms our patients." 
The New York State Nurses Association announced Sunday afternoon that tentative agreements had been reached with Mount Sinai Morningside and Mount Sinai West on a new contract that includes improved staffing standards, salary increases over the next 3 years and protection healthcare and other benefits.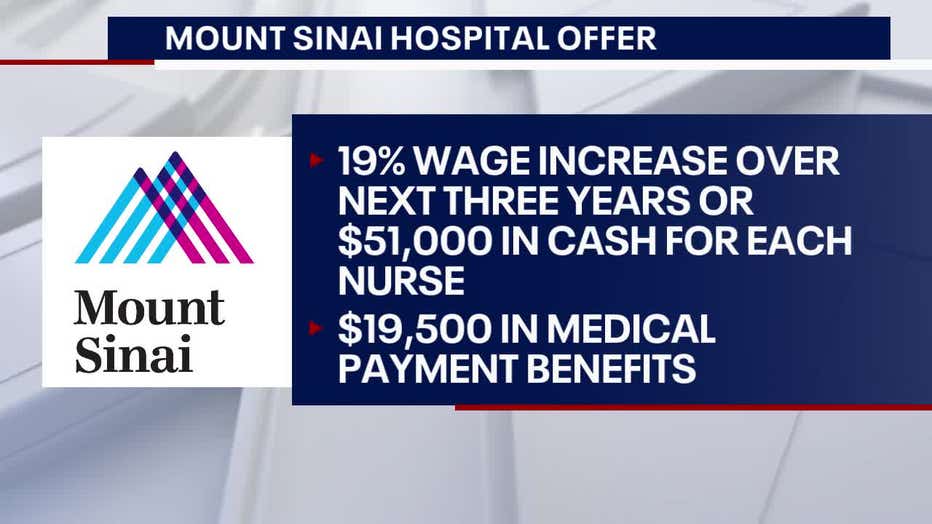 The union says Mount Sinai has over 500 nursing vacancies, and Neo-natal ICU nurses are caring for three infants at once. At Montefiore there are 760 nursing vacancies and emergency department nurses are responsible for 20 patients. Mount Sinai says it's hired 4,000 nurses in the past three years, writing, "NYSNA's inconsistent bargaining, unwillingness to accept this offer, and insistence on moving forward with a strike has left us no choice but to take significant actions to care for our patients." 
The contingency plan already in place is to divert ambulances, postpone elective and heart surgeries, and Transfer NICU babies and cancer patients to other hospitals, plans that Mount Sinai says will put even more strain on emergency departments and health systems during a time of crisis.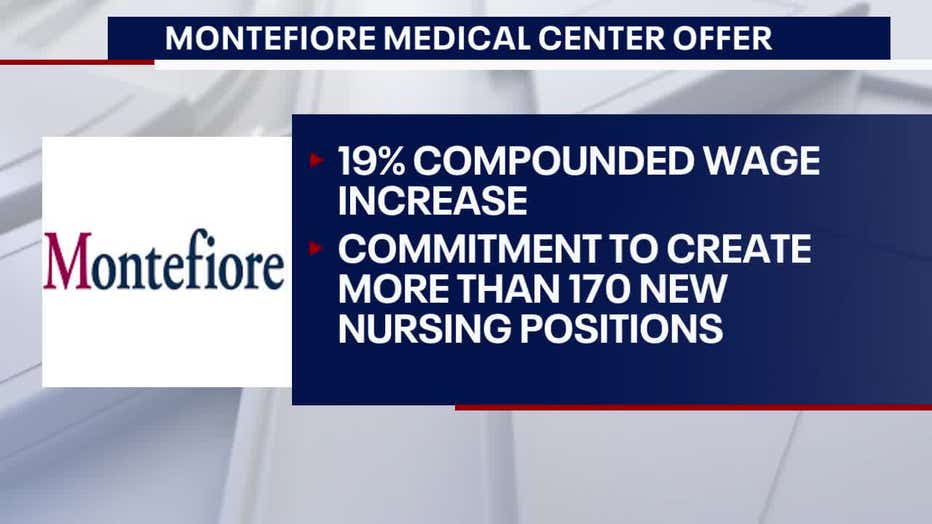 "Since NYSNA NYC nurses started negotiating our contracts four months ago, we have said our number one issue is the crisis of chronic understaffing that harms patient care," said NYSNA President Nancy Hagans. "The time is now to settle fair contracts that help nurses deliver the care that all New Yorkers deserve. We are fighting to improve patient care and will do whatever it takes to win."
On Saturday, the NYSNA announced that it had reached a tentative agreement with BronxCare Health System, while a tentative agreement was reached with Flushing Hospital Medical Center on Friday.
The Associated Press contributed to this report.