30-foot-tall snowman made by Buffalo, Minn. family becomes neighborhood attraction
BUFFALO, Minn. (FOX 9) - A snowman the size of a house is bringing tourists to a neighborhood in Buffalo, Minnesota, to get a peek at the momentous undertaking.
There's no denying "Frosty Fobbe" is big and fat. At about 30 feet tall and 20 feet across, this dude is carrying a wide load. Wednesday, as FOX 9 stopped by, Eric Fobbe was trimming the fat, shaping him up to look his best. Upkeep is an everyday thing, but it's not nearly the work that went into building him.
"Get all the snow from the neighborhood, and I just pile it up right here," he explained. "And then I take a snow blower and blow one big pile."
It all started last Friday. It took forty hours and the entire weekend, with temporary stairs up the backside to help get the 75-pound hat on top of Frosty's head. The big boy also needed a big set of mittens too.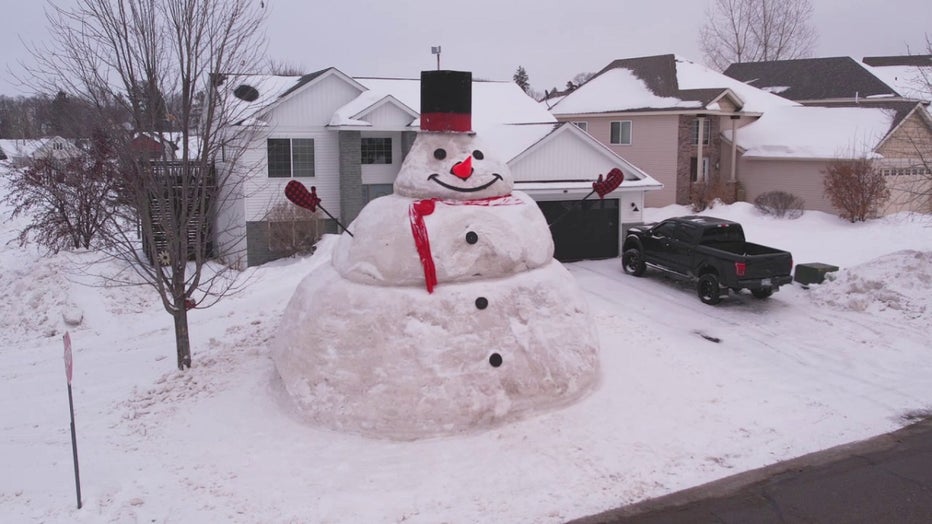 The large snowman in Buffalo, Minnesota. (FOX 9)
Now, his wooden eyes, traffic cone nose, and never-ending smile seem to be watching and peeking around every corner and there's only one thing that makes him have a bad day.
"When it's sunny out, or it's over 30 degrees, I'll come home from work, and I'll notice it's shrunk a little bit, so I'm out here adding snow to it non-stop," Fobbe explains.
Now, this is actually the fourth big snowman the Fobbes have built. The first one was 12 feet, then 20 and 25 in 2022. This year though, he's taller and wider than ever. The Fobbes say expanding the family makes them happy, but seeing others enjoy their new addition is even better.
"It's so nice seeing the community come together and people, like he said, from Bloomington, all over Minnesota come to see it," says Stacey Fobbe. "And it's just so neat to meet new people."
The snowman is located on Buffalo Run Road and Rodeo Drive in Buffalo, just off Highway 25 on the southern edge of town.