2 Minnesota men charged with ISIS support
Federal prosecutors have charged two Minnesota men with providing material support for terrorism. One of the men, 20-year-old Abdi Nur, was charged in absentia, because he is believed to be currently fighting for the terror group ISIS in Syria. The other man, 18-year-old Abdullah Yusuf, was intercepted this summer at the Minneapolis-St. Paul International Airport while allegedly attempting to travel to Turkey to fight for ISIS.  Yusuf was arrested Tuesday morning in Inver Grove Heights, Minn. and will be arraigned in Federal Court in Minneapolis at 2 p.m.

TIMELINE: Suspects' Minneapolis-Turkey travel plans
Passport agent got suspicious
According to the charges, Nur assisted Yusuf with making travel arrangements to travel to Syria. The FBI first learned of Yusuf's plans when a passport agent became concerned because Yusuf was traveling to Turkey by himself, with no family and no financial means. When the passport specialist sought more details about his travel plans, Yusuf said he was meeting a friend he "met on Facebook not too long ago." He didn't provide any other details and became "visibly nervous, more soft-spoken and began to avoid eye contact." The passport agent noted that Yusuf didn't seem excited or happy to be traveling to Turkey for vacation. He also thought the entire interaction was odd enough to report to his supervisor, who then alerted the FBI.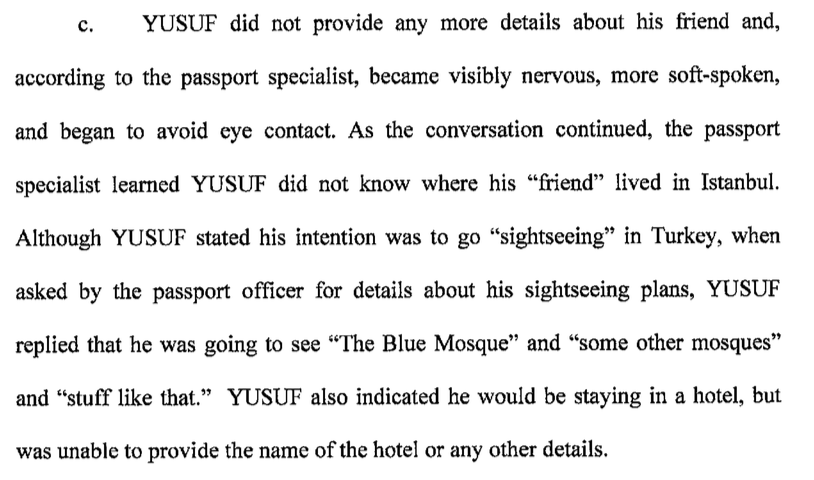 The charges detail how in the weeks that followed the FBI monitored Yusuf's whereabouts. At the time, he was attending Heritage Academy Charter School in southeast Minneapolis. Earlier this year, Yusuf testified before a grand jury investigating a dozen young men who had left Minnesota to fight for the terror group ISIS.
Investigators say Abdi Nur left for Syria last summer. His whereabouts are unknown.
ISIS recruits communicating with al-Shabaab recruits
FBI agents learned Nur is Facebook friends with Mohamed Abdullahi Hassan, who was indicted in 2009 for conspiracy to support terrorists and conspiracy to kill abroad. Hassan left the United States in August 2008 to join the terrorist group al-Shabaab in Somalia.
Private Facebook messages between Nur and Hassan in August 2014 include Hassan asking, "us brothers from mpls wanted to know how many you guys are back there in sham (Syria)." Nur replied, "only three of us the others there still workin making hijirah." *The term "hijra" is a migration or journey. On Aug. 13, Nur wrote to Hassan that his group was "planning on attacking them soon...today or tomorrow the brothers will take over the airport in dabkah." On Aug. 24, ISIS fighters attacked the Syrian air base in Tabqa, where more than 500 people were killed.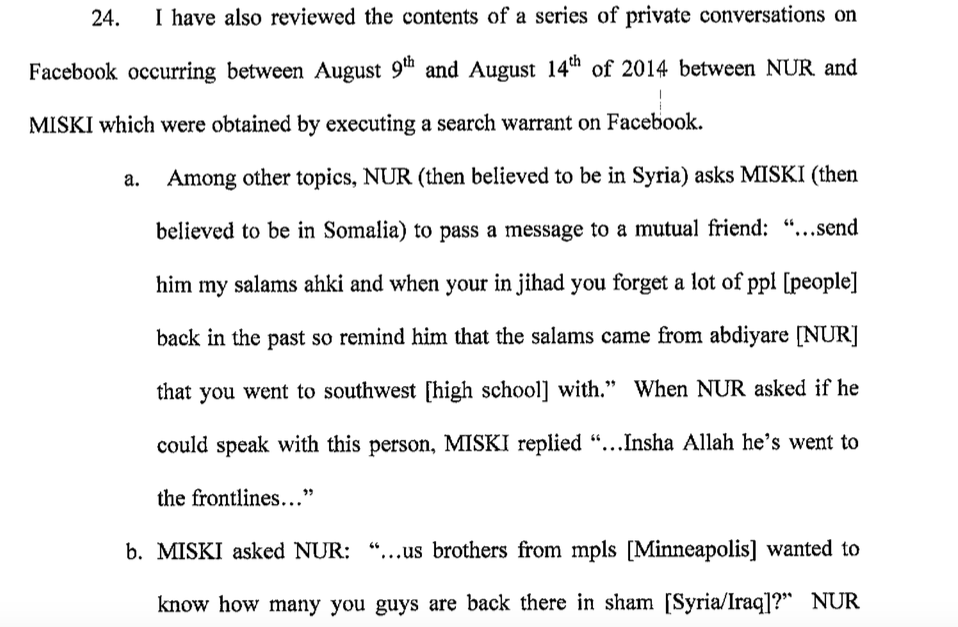 What they're saying
"The threat from ISIL is serious, and we need to stifle terrorist recruitment in Minnesota. I commend the FBI and Andy Luger, Minnesota's U.S. Attorney, for taking action. Going forward, I will continue supporting U.S. Attorney Luger's efforts and I will work to make sure we have the resources we need to end this recruitment in our state once and for all. Minnesotans of all backgrounds and faiths are committed to combatting ISIL and making sure justice is done. That means we need to continue bringing together law enforcement, religious leaders, and local leaders to expand outreach to Minnesota youth in affected communities. In my experience, nobody is more upset about young members of their communities going to fight alongside foreign terrorist groups than those communities themselves." – U.S. Sen. Al Franken
"As charged, these two young men conspired to join ISIL and travel from Minnesota to the Middle East to engage in a campaign of terror in support of a violent ideology. Since al-Shabaab began recruiting young adults from the Twin Cities in 2007, our region has lost dozens of disaffected young people to terrorist organizations that would sooner see Somali Minnesotans die on foreign battlefields than prosper in peace and security in the United States. The law-abiding members of Minnesota's Somali community are great partners in our fight against terror, and I am proud to work closely with community and religious leaders to lift up those Somali youth who remain vulnerable to terrorist recruiters. Unfortunately, Yusuf and Nur were not the first – and may not be the last – to conspire in support of ISIS. As we work with our many partners to improve the lives of Somali Minnesotans, we will continue to investigate and prosecute aggressively criminals who provide support for terror." - U.S. Attorney Andrew Luger