11-year-old Outer Banks wild stallion euthanized after severe fighting injury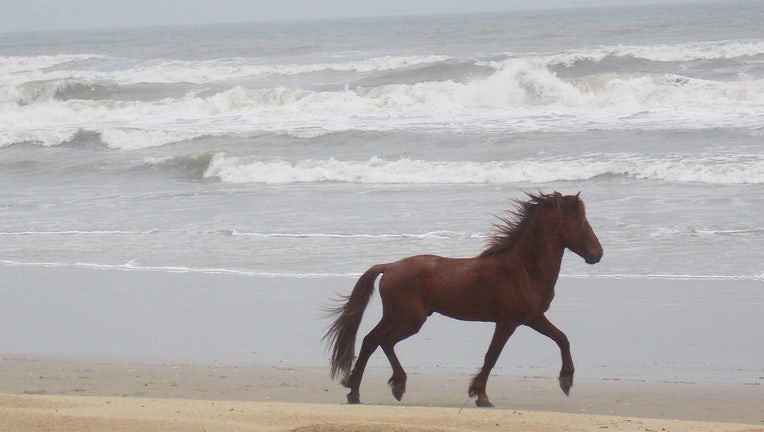 article
A beloved wild stallion that was a familiar favorite among visitors to the Outer Banks of North Carolina has tragically passed. 
Finn, an 11-year-old stallion, was seen fighting with other stallions last Friday, according to a post published to the Corolla Wild Horse Fund (CWHF) Facebook page. 
Then, later that same Friday evening into Saturday morning, Finn was seen "unable/unwilling to move." 
Veterinarians observed that Finn's leg was broken beyond repair and it was advised that he be euthanized to end his suffering, the Facebook post read. 
According to the veterinarians, there was no reason to suspect that Finn's injuries were caused by anything human-related, such as being hit by a vehicle. 
"While it is a devastating loss for those of us who cared for Finn and who will miss him dearly, what happened to him is nature in its most basic, wild, and unforgiving form. Finn died as wild as he was born; he lived a truly free life and that is something we should take comfort in," the post read. 
The Corolla Wild Horse Fund said Finn's death served as a reminder to spectators how dangerous wild horses can be and also noted that it is breeding season and "stallions absolutely do not care if you are in the way when they are fighting." 
The threat of being either trampled, kicked, bit or any other manner of injury is higher than normal during breeding season, so it is best to admire the wild horses from afar – at least 50 feet, the CWHF advised. 
"Fights can break out in a split second, and their movements can be unpredictable and quick. Please give these horses the respect they deserve - for their own safety and yours," the CWHF added. 
This story was reported from Los Angeles.