Wolves beat Sacramento to end 4-game skid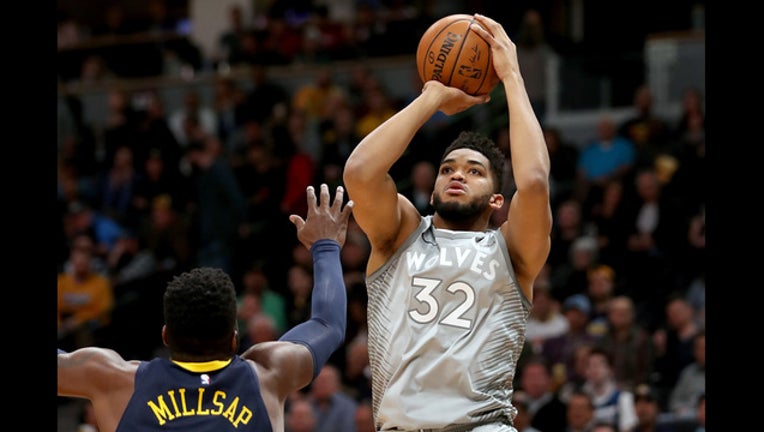 MINNEAPOLIS (FOX 9) - It was a night the Minnesota Timberwolves badly needed.
They had just returned from a four-game West Coast trip, where they had multiple chances to win multiple games. But they went 0-4 between Portland, Golden State, Sacramento and Phoenix.
The Timberwolves led the Trail Blazers in the fourth quarter before a late Portland run led to a 113-105 loss. They gave up 141 points to the Kings in a loss, and Phoenix beat the Timberwolves 107-99 for what was just their sixth win of the season.
It's what made Minnesota's 132-105 win over Sacramento Monday night that much more impressive. A four-game losing skid ended, and they got a win over a team that scored 141 on them five days before.
At 14-16, the Timberwolves are 6.5 games out of first place but just 2.5 games out of the No. 8 spot in the Western Conference. Two things they're looking to fix, and quickly: Minnesota is 0-11 on the road in the West. They're also 2-3 in their own division.
Their saving grace is Target Center, where they are 12-4 this season.
Monday night, they raced out to a 38-23 lead, and a 22-5 run to start the second quarter blew the game open at 60-28. The Kings put up a metaphoric white flag at that point. No Sacramento starter played more than 18 minutes. Las week, Nemanja Bjelica torched his former team for 25 points in 28 minutes. Monday, he played just five minutes and didn't score.
Sacramento was on the back end of consecutive games.
The Timberwolves set a franchise record Monday night with nine players scoring in double figures. Andrew Wiggins led the way with 17 points, five rebounds, two assists and one steal. Karl-Anthony Towns had 14 points, 14 rebounds, three assists and three blocks.
Gorgui Dieng scored 15 points in just 20 minutes. Dario Saric had 12 points and seven rebounds, and Tyus Jones had 10 points and 10 assists. Josh Okogie continues to make his case for more playing time. He scored 10 points in 27 minutes, but had two highlight reel dunks and blocked a shot on defense. His second quarter energy took the Timberwolves to another level.
The Timberwolves had 37 assists on 48 made field goals. It's the fourth time they've scored at least 130 points in a game, and they're 2-2 in those games.
It was a crucial win for the Timberwolves, who have three games over the next five days. It starts with hosting the Detroit Pistons Wednesday night. The Pistons are fourth in the East at 14-14. They travel to play San Antonio Friday before facing the Thunder in Oklahoma City on Sunday. The Thunder are third in the West at 19-10.
Coach Tom Thibodeau said Tuesday that guard Jeff Teague, who has been out with an ankle injury, won't play Wednesday against Detroit.