Timberwolves star Anthony Edwards changing to No. 5 jersey this season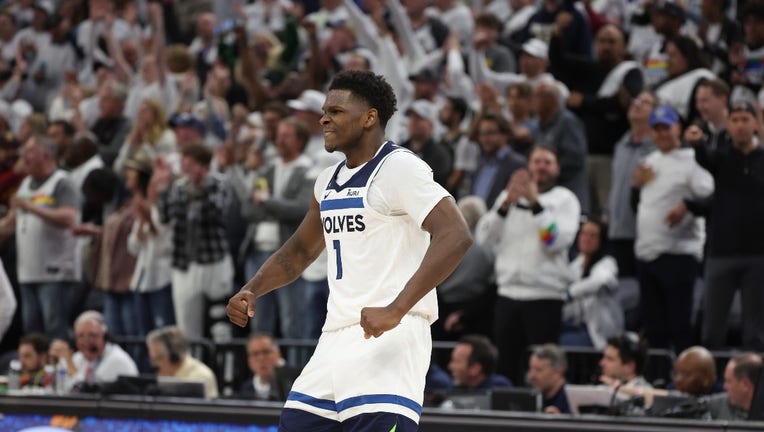 article
MINNEAPOLIS (FOX 9) - It's the offseason in the NBA and many players are getting ready to play in the FIBA World Cup, but that didn't stop Timberwolves star Anthony Edwards from dropping some news on Tuesday.
Edwards' play will likely look the same that got him a rookie maximum contract extension, but he'll be doing it in a different jersey. Edwards announced on Tuesday that he's switching his jersey to No. 5, from No. 1. Since being drafted No. 1 overall by the Timberwolves in 2020, he's worn No. 1.
He's more comfortable in No. 5, which he's worn virtually his entire basketball career. He wore it in high school, as a McDonald's All-American and in college at Georgia.
"I mean 5 has just always been my number. It's always been a number to me that I always wanted. When I got drafted a teammate had it, so I got the opportunity this year and I took it," Edwards told Shams Charania of The Athletic. 'I'm going to be a whole different player."
That teammate was Malik Beasley, who is now with the Milwaukee Bucks. Edwards is coming off his first All-Star selection, and signing a five-year extension worth up to $260 million.
"Signing the contract was dope, but I think the work just started when I signed the contract," Edwards said.
He promised a lot more athleticism, and more dunks in the new jersey.
Edwards said his goals this year are for the Timberwolves to win at least 50 games, and to get Karl-Anthony Towns to an MVP level. Edwards led the Timberwolves in scoring last year, averaging 24.6 points per game in 79 starts. In 223 games, Edwards is averaging nearly 22 points per game.