Rosario hits slam in 9-run 1st as Twins rout D-backs 12-5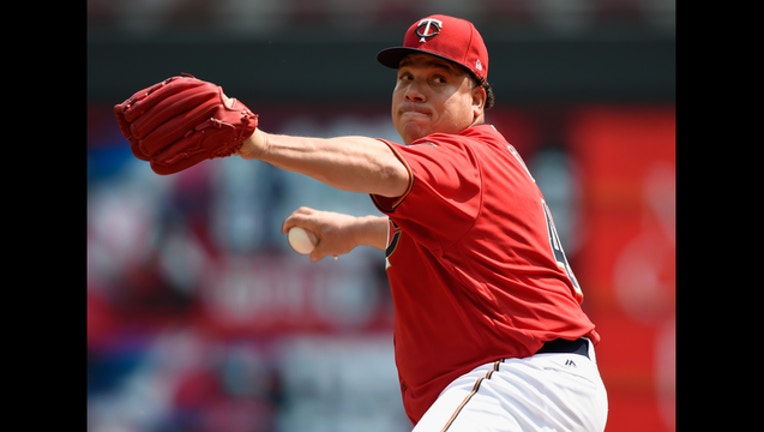 MINNEAPOLIS (AP) - Eddie Rosario hit a grand slam in a nine-run first inning and the Minnesota Twins routed the Arizona Diamondbacks 12-5 on Sunday to complete a three-game sweep.

Bartolo Colon (5-10) allowed four runs over six innings for his third win in five decisions since being signed by the Twins. The 44-year-old righty became the 18th pitcher in major league history to defeat all 30 teams.

Arizona lefty T.J. McFarland, making his first start since July 1, 2014, was chased after getting only one out and allowing run-scoring hits to Byron Buxton, Jorge Polanco, Max Kepler and Chris Gimenez. McFarland (4-5) also walked two batters and was charged with seven earned runs, raising his ERA in August to 14.34.

The score was 5-0 when McFarland gave way to Braden Shipley, just called up from Triple-A Reno. Brian Dozier worked his second walk of the inning to load the bases for Rosario, who homered on an 0-2 pitch to make it 9-0. It was the third time in team history the Twins scored nine runs in the opening inning.

Gimenez and Dozier added solo home runs in the fifth inning against the Arizona bullpen.

Colon, armed with plenty of run support, also got some defensive help from Rosario, who threw out Chris Iannetta at the plate after catching a fly ball in the second inning. Colon was 0-2 in four previous starts against the Diamondbacks, who joined the majors a year after Colon's career began in 1997.

Minnesota won its fourth consecutive game overall and eighth straight against National League opponents. Meanwhile, Arizona lost for the fifth time in six games. Before J.D. Martinez got the Diamondbacks on the board with a solo homer in the fourth, they had allowed 25 unanswered runs in the series.

Ryan Pressly and Glen Perkins combined to pitch the final three innings for Minnesota.
UP NEXT
Minnesota travels to Chicago for a rare five-game series against the White Sox, which begins with a doubleheader Monday. RHP Tim Melville will make his Twins debut and start for the first time in the majors since April 2016 with Cincinnati. RHP Dillon Gee, who has a 2.13 ERA in four relief appearances with the Twins this season, will start the other game.