Minnesota Wild re-signs goalie Filip Gustavsson to 3-year deal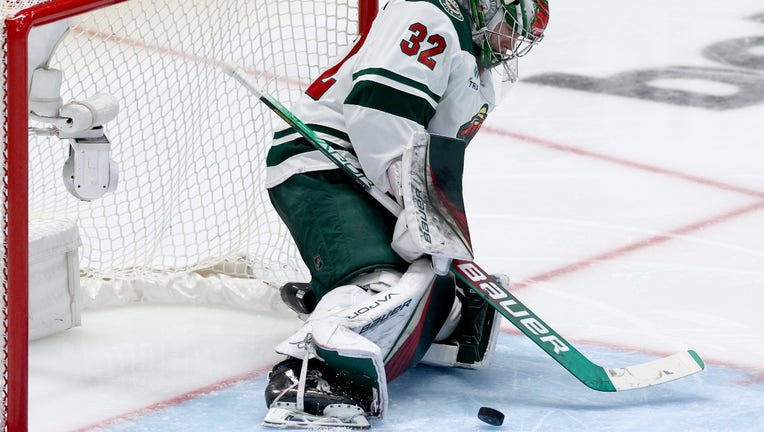 article
MINNEAPOLIS (FOX 9) - The Minnesota Wild appears to have found their goalie for the future.
The Wild announced Monday it has re-signed Filip Gustavsson to a three-year contract, worth $11.25 million. Gustavsson is now under contract with Minnesota through the 2025-26 season.
"This is something that obviously we've been working on for a long time. Filip had a career year last year, and is well-deserving of this contract. We're very happy with it. As a team, we're more than happy to make this investment in him," Wild General Manager Bill Guerin said Monday.
"I'm really happy to have three years instead of just having one year and having all the pressure on my shoulders again to really perform for this year to get another contract. A three-year feels like a little more pressure off my shoulders to know that I have a job for the next three years," Gustavsson said. "I'm so excited to do it with Minnesota again, because I was enjoying it so much last year and we had so much fun going around to different cities and playing all the teams and winning a lot of hockey games. I'm really excited to do that again."
Gustavsson appeared in 39 games, starting 37, last season and finished 22-9-7 with three shutouts, a 2.10 goals against average and a .931 save percentage. He set new career-highs in games, starts, wins and shutouts.
Gustavsson started five of the six games in the Stanley Cup Playoffs series against the Dallas Stars, which the Wild lost 4-2. He made his playoff debut in Game 1, and set a franchise record with 51 saves in a 3-2 win in double overtime.
In 60 career starts, Gustavsson is 32-22-10 with a 2.51 goals against average and .921 save percentage. He was a second round pick of the Pittsburgh Penguins in 2016, and the Wild acquired him in the deal that sent Cam Talbot to the Ottawa Senators last July.
Gustavsson, like he did last season, will pair with Marc-Andre Fleury in the Wild's goalie rotation. Guerin said he wants Gustavsson to come into the 2023-24 season to compete for the starting job.
"I think having him with Flower, I think the two of those guys really connected in a positive sort of way. Gus could inject some youth and energy, and Flower could guide him as an experienced goalie. What we saw was a guy that has a potential to be a top goalie," Guerin said.