KAT escapes major injury, sits win against Knicks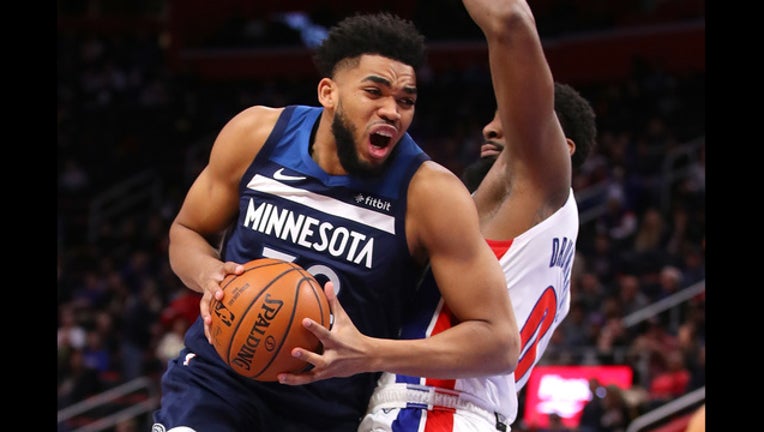 MINNEAPOLIS (FOX 9) - Karl-Anthony Towns didn't play in the Timberwolves' 103-92 win over the New York Knicks Sunday night, but got some promising news on his injured right knee.
Medical tests done after Saturday's win over the Washington Wizards came back normal, and didn't show any structural damage on Towns' knee. He was held out of Sunday's game as a precaution with right knee inflammation.
Towns injured his knee with 8.3 seconds left in regulation against the Wizards in a game that went to overtime. He was trying to get open on an inbounds play, started limping and immediately went to the bench. He went back to the locker room for an evaluation before being ruled out for the rest of the game.
Towns scored 40 points and grabbed 16 rebounds before exiting. The Timberwolves beat the Wizards 135-130.
Sunday marked just the third missed game in Towns' career. He made 303 straight starts before missing the first two games after the NBA All-Star break due to being in the NBA's concussion protocol. He was involved in an accident with a semi-truck while on the way to catch the team plane to New York.
Towns had been playing some of the best basketball in his career, scoring at least 40 points in three of the last five games. He was averaging 35 points and shooting 56.6 percent from the field.
The Timberwolves (32-35) start a three-game road trip at Denver Tuesday night. They're six games out of a playoff spot with 15 regular season games left.