Gophers hockey aiming to leave Tampa with national championship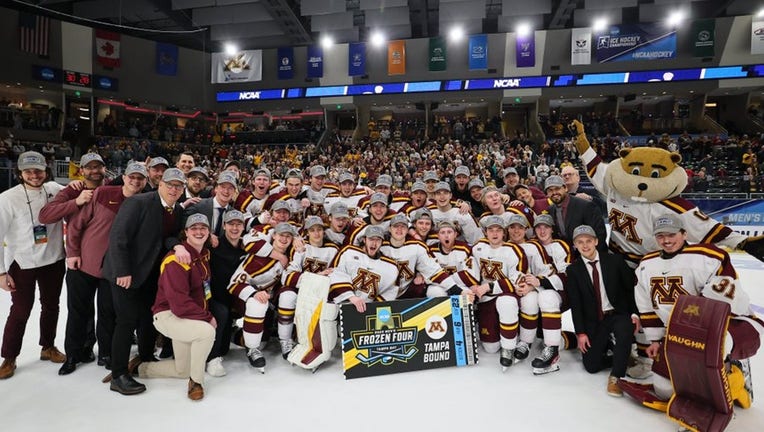 article
MINNEAPOLIS (FOX 9) - Bob Motzko spoke with reporters on Wednesday as the University of Minnesota men's hockey team gets ready for next week's Frozen 4, and literally did not know what day it was.
That's the life of a college hockey coach when you're trying to win a national championship. For Motzko and the Gophers, next week marks their second straight Frozen 4, and his third as a head coach. Minnesota hasn't won a national since 2003. The team flies to Tampa next Tuesday and practices Wednesday before facing Boston University on Thursday.
"It seems like a far way out. It's like the end of the toilet paper roll, it's going to be over. It's going to go fast, we get on a plane a week from today. No, we're already there. What is today?" Motzko joked. "That'll tell you what's going on in our world, I had no idea what day it was. It's going to go fast."
The Gophers got there after surviving an early scare from Canisius in a 9-2 win in the opening round of the Fargo Regional. They beat St. Cloud State two nights later, and Brock Faber joked the team needs to continue the ritual of whatever they did in the hotel the night before.
That's because there's some unfinished business. The Gophers got to the Frozen 4 last year, only to be sent home early in a 5-1 loss to Minnesota State-Mankato. It's a business trip this year, and they can't be distracted by the events and media obligations the second they get off the plane, or caught up in the Florida sun.
"Something you learn from, something you go to bed thinking about. It's that time of year and we're back, we're excited to play a lot better this time around," Faber said. "You're going to want to walk around and go to the beach, but try and stay focused on what's important and that's bringing home a national championship."
Motzko is hoping the sting of last year's loss to the Mavericks serves as a motivator this year.
"We have guys now that have lived the pageantry that comes with it. There has to be a point there, hopefully there's some lessons in there for our older guys. You have to have it, it's the great part of college sports. It's March, but then you have to be able to turn the page and get right back," Motzko said.
Motzko might have jumped off his couch when he saw the pairings for the Frozen 4. After opening the NCAA Tournament with the late game in Fargo, the No. 1 Gophers are the early game next Thursday, at 4 p.m. central.
"Did you hear that scream out of Minnetonka when that came on the screen? Love it. 8:30 at night? If I had my pick I would never play at 8:30 at night, but it is what it is. At 5 o'clock, we've got to be ready to go," Motzko said.
The Gophers (28-9-1) have been a top-ranked team most of the season, now their hope is to finish that off with the program's first national title in 20 years. Boston University comes in with 29 wins.
LOGAN COOLEY, MATTHEW KNIES NAMED HOBEY BAKER FINALISTS
For the first time in almost 15 years, a pair of teammates are top-three finalists for the Hobey Baker Award. The 30-member committee announced Thursday that Gophers' Logan Cooley and Matthew Knies are two of the three finalists.
They make up 2/3 of the best line in college hockey. Cooley leads the Gophers with 57 points, which is also second in the country. He leads the NCAA with 37 assists. Knies is the Big Ten Player of the Year and a First Team All-Big Ten pick. He leads the nation with seven game-winning goals, and leads the Gophers with 21 goals on the season.
The Hobey Baker Award winner will be announced at 5 p.m. on April 7.