Ex-Gophers coach Kill: P.J. Fleck is 'about himself' not the players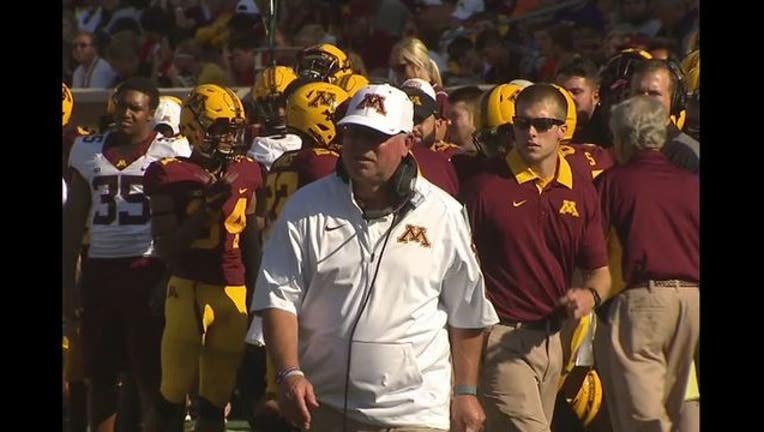 MINNEAPOLIS (FOX 9) - Former University of Minnesota football coach Jerry Kill didn't mince words Tuesday when talking about current Gophers Coach P.J. Fleck in a radio interview.
Kill opened up during an interview with Big Ten Sirius XM radio, saying Fleck is "about himself" and not the players. Fleck once worked under Kill in 2008 as the wide receivers coach at Northern Illinois, but Kill claims Fleck's personality has changed.
"Once he became a head coach, I mean I helped him get the job at Western Michigan and I just think sometimes ego gets carried away," said Kill. "And when he went into Minnesota and treated people the way he treated my guys and tell them he had to go in an completely change the culture and it was a bad culture and bad people - you know he made it sound like we didn't know what we were doing and I took it personal. You just don't treat people that have been with you and helped your career and you don't even talk to them you know once you get the job."
Kill says he still roots for the Gophers, but Fleck? Not so much.
"Do I enjoy him running up and down the sideline? No. Do I think he's about the players? No. He's about himself," said Kill.
Kill says he hasn't spoken to Fleck in years and the last time they did, the conversation "wasn't good."
"I guess disappointment is a better way to put P.J. and disappointed on how he handled some things," said Kill.
Kill retired from Minnesota mid-season in 2015 due to health problems. He spent five seasons as the Gophers football coach and compiled a 29-29 record. He was 0-3 in bowl games, including a 33-17 loss to Missouri in the 2014 Citrus Bowl. That was Minnesota's first New Year's Day bowl game in 52 years, when the Gophers beat UCLA in the Rose Bowl 21-3.
He returned to the game in 2017 as an assistant coach for Rutgers before he retired again.
Kill is known for being outspoken. He was also critical of the university's handling of Tracy Claeys, who took over for Kill as the Gophers' head coach. Claeys was fired in 2016 in the wake of a team boycott in response sexual assault allegations. That Gophers team finished 9-4 after beating Washington State in the Holiday Bowl 17-12.
Fleck recently finished his second season with the Gophers. Minnesota finished 7-6 and qualified for Fleck's first bowl game with the Gophers by beating rival Wisconsin 37-15. They beat Georgia Tech in the Quick Lane Bowl 34-10.