A look at the defensive standouts in Gophers Spring Game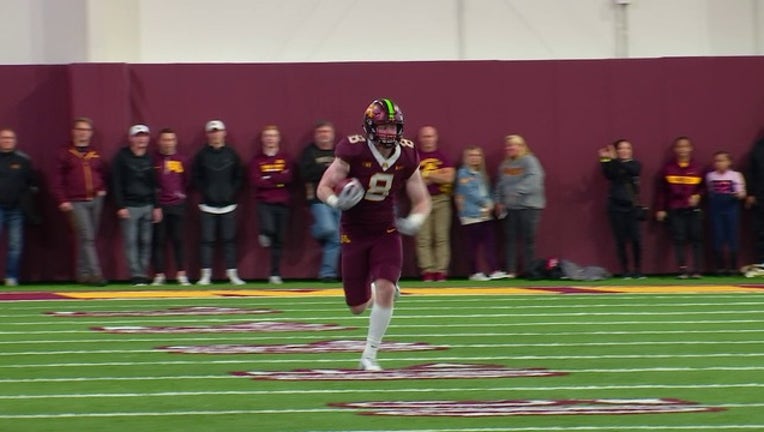 article
MINNEAPOLIS (FOX 9) - PJ Fleck is looking to build off a strong defensive finish to the 2018 season, after having to make a tough decision on his coaching staff near the end of the year.
Fleck fired defensive coordinator Robb Smith after a 55-31 loss at Illinois. The Gophers defense had been struggling in the team's 1-5 start in Big Ten play, which included four straight losses to start the league slate. Minnesota allowed 42 to Maryland, 48 to Iowa, 30 to Ohio State, 53 to Nebraska and 55 to the Illini. Add in the 31 in a win over Indiana, and it's an average of 43.1 points per game.
While it's hard to pin the numbers on one coaching change, those numbers tell an interesting story. Under Joe Rossi, the Gophers allowed 10 points in a win over Purdue, 24 in a loss to Northwestern, 15 to Wisconsin and 10 to Georgia Tech, the top rushing team in the nation last year. That's an average of 14.75 points over four games.
The momentum from the finish defensively carried over into spring practice, where Fleck said he saw multiple players stand out in Saturday's Spring Game. The newer names to keep an eye on: Boye Mafe, Esemi Otomewu and Thomas Rush. They were three names we didn't hear a lot from last year, and there's a chance they make big plays in the fall.
Rush had arguably the best day of the three. He finished with 3.5 tackles, one for a loss. He earned defensive MVP honors after taking a Tanner Morgan pass and taking it 71 yards for a touchdown, channeling his days as a high school running back.
"I thought it was awesome how he played. He had some sweet tackles, had the pick 6, he's stepped up big time," senior Carter Coughlin said. "It was really good to see him finish that way because he's had a great spring ball."
Rush played in 12 games last year, but had only five tackles.
Otomewu figures to be a force on the defensive line in the all, wherever Fleck decides to put him. He has the strength to play inside, and the speed to play outside. He finished Saturday with six tackles.
He played all 13 games last year and finished with 14 tackles, including one sack.
Boye Mafe might make the biggest jump heading into the fall. He finished with 3.5 tackles, including a sack. He played in 10 games last season and finished with 12 tackles. Fleck said there is no ceiling for what Mafe can accomplish in the fall.
"I thought Boye Mafe played tremendous. His motor never stops," Fleck said. "He's a special talent that comes around not very often, and he's got a lot of room to grow. He might be one of the most valuable players on our defensive side this year."
Sophomore Jordan Howden also stood out Saturday for the Gold team with 8.5 tackles and an interception. He got thrown into a pivotal role in the secondary last year after Antoine Winfield Jr.'s injury and played in all 13 games, making 45 tackles.
He's one of several young players put on the field as a freshman, and did what he could to take full advantage.
"When you sit there and look at the amount of young players that were on the field when you beat Wisconsin, when you win your bowl game and they get it and the light bulb goes off. Now they carry that over, they mature and they have more confidence, they're a dangerous player for a lot of years," Fleck said. "That's what we're investing in."