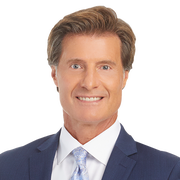 Randy is a multiple Emmy Award winning journalist who has worked in the Twin Cities market for three decades. He currently anchors FOX 9's 5 p.m. and 6 p.m. news, as well as FOX 9 at 9 p.m. and 10 p.m.  
Randy has reported and anchored through many of Minnesota's biggest stories, including the kidnapping and discovery of Jacob Wetterling.  Governor Jesse Venura's time in the State Capitol and yes, he was, like many, called a media jackal by the governor. Randy spent weeks covering Minnesota's floods, fires and tornados. He was on the Iron Range covering the tragic loss of Minnesota Senator Paul Wellstone.
Randy also spent several years anchoring and reporting in New York for NBC News and MSNBC. 
Randy is active in several community and charity events, helping to raise money for cancer research and outreach organizations.
Randy lives on the east side of the Twin Cities with his wife of 35 years, Kami. Kami and Randy raised five daughters. The two enjoy biking, hiking, skiing and snowmobiling. When he's not working, much of Randy and his family's time is spent at their cabin in northern Wisconsin.
The latest from Randy Meier