Woman injured, 4 squad cars damaged in police chase on Hwy. 7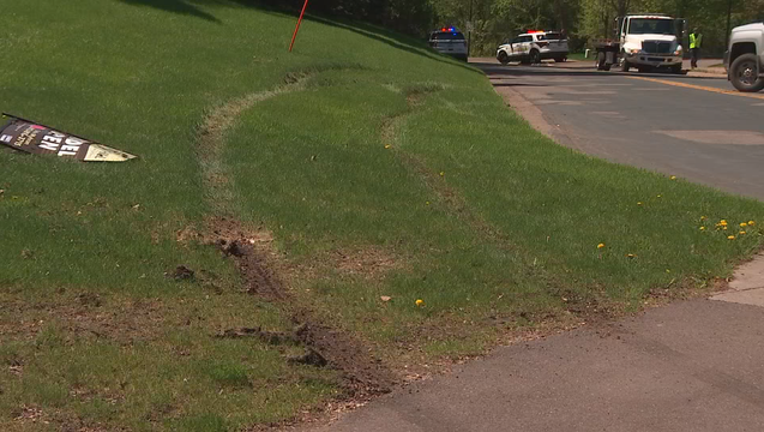 EXCELSIOR, Minn. (KMSP) - A 37-year-old Coon Rapids, Minnesota, man is in custody following a police chase that damaged six vehicles, including four squad cars, Tuesday. 
On Monday, Carver County sheriff's deputies were called to investigate a report of a suspicious vehicle in Watertown Township. The vehicle had already left the scene at the time of the call. 
Deputies learned the vehicle had been stolen from Shakopee. The suspect was identified as a fugitive wanted by the Minnesota Department of Corrections. 
At 10:21 a.m. on Tuesday, a deputy located the stolen vehicle and suspect driver. The suspect fled when the deputy tried to stop the vehicle. 
Deputies pursued the vehicle west on Highway 7 through McLeod County and rural Carver County and then back east on the highway. They made several attempts to stop the vehicle using tire deflation devices, but the suspect was able to avoid them. 
As the vehicle approached the intersection of Highway 7 and Minnewashta Parkway in Excelsior, the driver swerved to avoid tire deflation devices and lost control, colliding with another vehicle that was stopped at the intersection. 
The suspect attempted to flee the crash, but was boxed in by law enforcement. He was taken into custody without incident. 
The driver of the vehicle that was struck, identified as a 42-year-old Shorewood woman, was injured in the crash and was taken to a nearby hospital. 
In addition to the stolen vehicle and the vehicle that has hit, four squad cars were also damaged in the incident. One squad car hit the tire deflation devices, while the other three were damaged while attempting to box in the suspect's vehicle. 
The suspect is being held in the Carver County Jail on pending charges of fleeing police, possessing stolen property, failing to stop for a crash and driving after having his license revoked. 
The Minnesota State Patrol is investigating the incident.