Washington avalanche: Body of 1 climber recovered; 2 others still buried in the snow
LEAVENWORTH, Wash. - One of the three climbers killed in an avalanche near Leavenworth last weekend has been recovered by rescuers. 
On Feb. 19, a group of six people were backpacking/climbing Colchuck Peak when an avalanche was triggered. Three of the climbers were killed.  
"Four of the climbers were swept down the couloir approximately 500 feet," authorities said. "Three of the climbers died as a result of trauma sustained in the fall."
Those three climbers who did not survive were identified as:
54-year-old Seong Cho, a Korean National living West Hartford, Conn.
60-year-old Jeannie Lee from Bayside, NY
66-year-old Yun Park from Palisades Park, NJ
On Feb. 24, the body of Cho was recovered at the base of Colchuck Peak. This was the first day weather conditions allowed air resources to fly into the area. 
Cho's body was found under a thin layer of snow at the GPS coordinates provided by a surviving member of the climbing party. 
Crews made additional search attempts for Lee and Park, but they were not located. 
Ground teams will not be deployed to the area until conditions are safe.
Moon over Colchuck Peak at sunrise, with Colchuck Glacier at left. (Laurel F/Flickr/Creative Commons)
The Chelan County Sheriff's Office is working with the Northwest Avalanche Center on a possible recovery plan. Recovery efforts will move forward based on avalanche and weather conditions. 
"We have had a major winter storm impacting the Cascades that sort of started on Sunday night and is sort of still ongoing even right now," said Dallas Glass, the deputy director & avalanche forecaster at the Northwest Avalanche Center.
Glass said the best thing for climbers and backpackers is to be aware of the avalanche forecast in the area you're heading to. 
You can see the forecast here.
He also recommends taking avalanche awareness and safety classes. You can learn more about those here.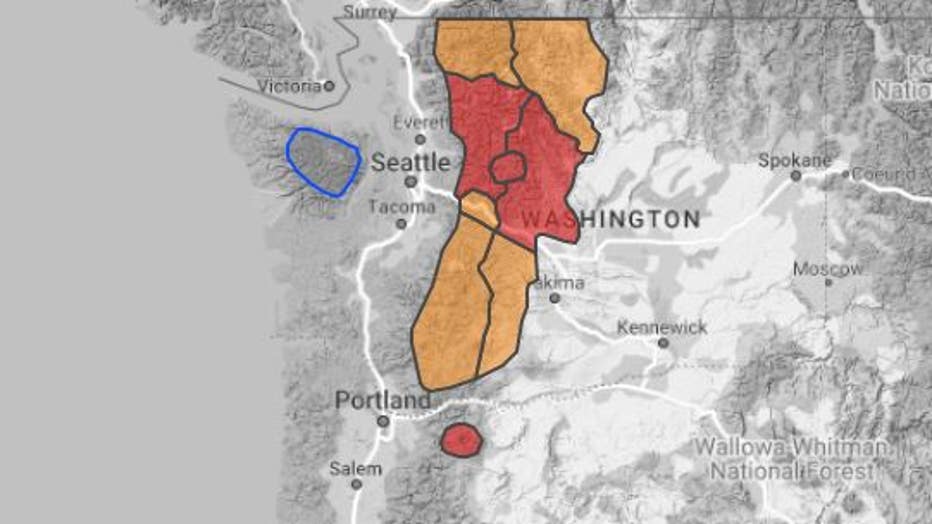 Avalanche danger listed as high or moderate on Feb. 21, 2023. (Northwest Avalanche Center)