Travis Kelce, Taylor Swift relationship 'nothing serious'; pop star thinks he's 'very charming': report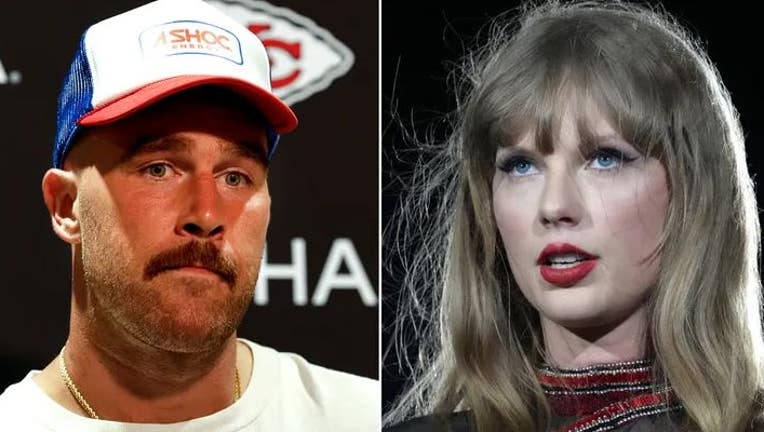 article
PHILADELPHIA - While it may appear that Kansas City Chiefs star Travis Kelce and pop superstar Taylor Swift are trending toward being officially official, a new report suggested things are not exactly hot and heavy.
Philadelphia Eagles center Jason Kelce said in a radio interview he thought the rumors were "all 100% true" but admitted he did not really know what was going on in his brother's love life. Later on Wednesday, an update from The Messenger said nothing was serious between the two.
CLICK HERE FOR MORE SPORTS COVERAGE ON FOXNEWS.COM
"She and Travis have hung out twice, and it's nothing serious. She thinks he is very charming, and they have been texting this last week," a source told The Messenger. "He is a little embarrassed at how much attention they are getting, but he has told her he would love to continue seeing her."
The report added that the two were "seeing where things go" and that Swift's friends are "always playfully suggesting people to set her up with."
Swift was seen earlier this week with "Game of Thrones" star Sophie Turner, who recently announced her divorce from Joe Jonas. Swift and Jonas dated in 2008 and she wrote several breakup anthems that were reportedly about him.
As for the Kelce relationship, Swift has some time off before her Eras Tour begins again. She is back in Miami on Oct. 18 and then continues on in New Orleans and Indianapolis before heading to Argentina and Brazil to kick off the international leg of the tour. She has a break between Nov. 26 and Feb. 7, 2024.
The Chiefs are at home when they play the Miami Dolphins on Nov. 5.
The Eagles player's comments came after he was asked about the dating rumors. Amazon analyst Tony Gonzalez was trying to get him to open up about it.
"I have seen these rumors, I cannot comment," Jason said last Thursday with a laugh, as Eagles quarterback Jalen Hurts added it felt like they were on "Gossip TV.
TRAVIS KELCE'S BROTHER ON NFL STAR'S TAYLOR SWIFT DATING RUMORS: 'I THINK IT'S ALL 100% TRUE'
"Ever since 'Catching Kelce,' everybody's been infatuated with Travis' love life," Jason said, referencing a 2016 reality dating show that featured the Chiefs star.
"I don't really know what's going on there. So, yeah, I know Trav is having fun, and we'll see what happens with whoever he ends up with."
The Messenger initially linked the four-time first-team All-Pro selection to Swift. According to the report, the two have been "quietly hanging out" for weeks.
Travis revealed on his podcast "New Heights" back in July that he made a failed attempt to meet with Swift and give her his number during a concert he attended. 
"I was disappointed that she doesn't talk before or after her shows, because she has to save her voice for the 44 songs that she sings," Travis told his older brother, Jason, at the time. "So, I was a little butthurt I didn't get to hand her one of the bracelets I made for her."
"If you're up on Taylor Swift concerts, there are friendship bracelets, and I received a bunch of them being there, but I wanted to give Taylor Swift one with my number on it," he added.
CLICK HERE TO GET THE FOX NEWS APP
Travis returned to the field on Sunday after missing Kansas City's first game of the season due to a hyperextended knee and bone bruise. He was welcomed back with a Swift-inspired announcer call when he scored a touchdown against the Jacksonville Jaguars.
Fox News' Paulina Dedaj contributed to this report.