Minnesota House votes for tougher restrictions on abortion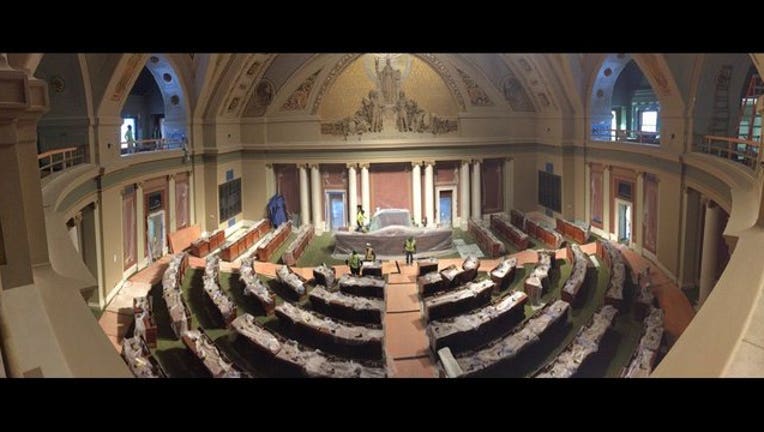 article
ST. PAUL, Minn. (AP) - Republican lawmakers sought tougher restrictions on abortions Monday, approving two bills in the House that would bar the use of state funds for abortion services and create a state permitting system for abortion facilities.
They face a tough path through Democratic Gov. Mark Dayton. The governor vetoed similar regulatory legislation in 2012 and said earlier in the session he would oppose any bills that limit women's access to abortions.
The bill to regulate abortion facilities was overhauled after abortion rights advocates testified in committee that it put an undue burden on facilities to comply with unrealistic standards. The new version would require the state's health department to award permits to nationally accredited facilities that follow evidence-based clinical standards. Facilities would be subject to random inspections and the permit would be good for two years.
Democrats focused most of their ire on the permitting bill, even as Republicans said they had changed it to give greater voice to providers as they navigate the permitting process. GOP lawmakers said abortion providers would be able to choose the national accreditation rules they follow and providers such as local Planned Parenthood facilities would be able to use their own national policy guidelines when seeking a permit.
Republican Rep. Debra Kiel of Crookston said the intent of the bill wasn't to shut down abortion providers.
"While the bill still fundamentally does the same thing - it requires licensing and inspections of abortion facilities to ensure that women are safe - the details have changed," she said. "We hope that those who have opposed this see that we are willing to work with them to protect women."
Democrats called the bill a backdoor attempt to prevent access to abortions.
The House approved the bill 79-53, with some Democrats in support of the bill.
Senate President Michelle Fischbach, author of the Senate version of the bill, said she expects the bill to be heard sometime next week.
The other bill would ban the use of state funds for abortion services. It passed largely along party lines by a vote of 77-54.
Republican Rep. Mary Franson of Alexandria, the author of the bill, said only the Medical Assistance program would be affected by her bill. That's Minnesota's Medicaid program, providing health coverage to over 700,000 low-income Minnesotans each month.
Franson said low-income residents could still get financial help for abortions from several groups across the state. Franson said she would like to see a larger push to help fund adoption services, which she said are often out of reach for low-income Minnesota residents.
Democrats said low-income residents would be hit especially hard if they weren't able to use Medical Assistance funds when paying for abortions.
Democratic Rep. Laurie Halverson, of Eagan, said before the floor debate that women have better outcomes when they can make their own decisions.
"There is no science that backs up the need to excessively regulate abortion," she said. "Any time the state thinks they should get in between women and their physicians, we are creating problems."