Meet the Final Four: What you need to know about the 4 teams vying for the National Championship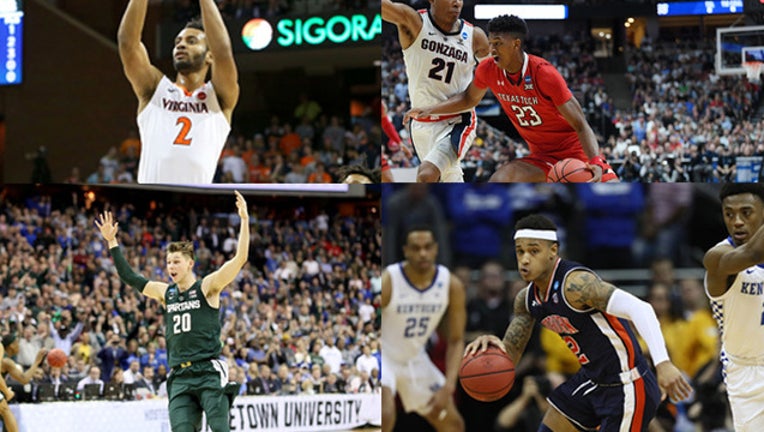 MINNEAPOLIS (FOX 9) - The Twin Cities are courtside this week for one of the biggest events in sports as the Final Four tips off in just two days.
The teams have all arrived in Minneapolis as they try to win two games that would cement them in history as National Champions.
Here is how each team got here and what they have to do to reign supreme at U.S. Bank Stadium this weekend.
AUBURN vs. VIRGINIA – Saturday at 5:09 p.m.
AUBURN
The Auburn Tigers come into Minneapolis having taken down three of the NCAA's blue bloods in North Carolina, Kentucky and Kansas.
Bruce Pearl says his team is obviously the Cinderella of the tournament so far due to those marquee victories.
The Tigers like to pressure their opponents on the floor and hope to make Virginia turn the ball over. Pearl says his team is good at creating offense from their defense.
"Our motto, our kids talked about last season was unfinished business," said Pearl Thursday. "We just finished up our third all-time regular season championship, won our first round game and yet the kids felt we could do more."
Auburn star Malik Dunbar added, "It was cool. There's going to be a lot of people here. Just ready for the opportunity."
VIRGINIA
Virginia is the favorite in this game against Auburn and they bring an experienced and determined bunch.
Tony Bennett's team was stunned a year ago as they became the first number one seed to lose to a 16 seed in UMBC. That loss sat with the Cavaliers and their fans all season.
Now, the team is back in the Final Four for the first time in 35 years and the players that suffered last year's embarrassment are more determined than ever.
That was shown in gutting out an overtime win against Purdue to make it here to Minneapolis.
Defense has been the calling card of this group, as they have only given up 70 points four times, but it's that inner drive to right a wrong that Coach Bennett is banking on when they step on the court against Auburn.
"From a basketball standpoint, it was such a pivotal moment and devastating in so many ways and humbling. I knew we had to be there for each other in ways that we never would have had that not happened. It was about sitting together, talking together, and just working through stuff and battling through it and trusting each other," Bennett said Thursday.
Another interesting note is Virginia Guard Kyle Guy, who is getting married soon. He and his fiancée put out a registry for gifts, but the NCAA stepped in and told him that was illegal and that he has to wait until he's done with the tournament.
TEXAS TECH vs. MICHIGAN STATE – Saturday at 7:49 p.m.
TEXAS TECH
The Final Four's night game will pit Michigan State against a third-seeded Texas Tech team.
Michigan State is the only team left in the field that has won a National Championship as the Texas Tech Red Raiders look for their first ever.
Tech made it to Minneapolis because of their defense, which has been fabulous all tournament long. They held Michigan to just 16 points in the first half and held Gonzaga, the country's highest-scoring team, to their lowest point total all year in the Elite Eight.
It all comes from Head Coach Chris Beard. He's a third-year coach and a disciple of Bobby Knight. He says defense wins championships and Texas Tech is going to put that mantra to the test.
"We just got a two-part mission here: Smell the roses, but also be us. Be us means let's ride the bus that got us here. Let's try to be disciplined and prepared. Let's practice really hard today, get some shots up at night at a local high school gym. I think you can do both," said Beard.
"Coach said smell the roses," echoed Red Raider Jarett Culver. "Not too many people get this opportunity. We just want to come out and enjoy it, but when it's time for business, time to settle down and get to business."
MICHIGAN STATE
The Michigan State Spartans landed in Minneapolis riding high off a one point victory over Duke.
Of note in this matchup is the fact that Beard admitted he idolized Michigan State Head Coach Tom Izzo during his coaching career. Now Bear must face his idol on the game's biggest stage.
This marks Izzo's eighth trip to the Final Four, but his team only has one player on it with Final Four experience.
Still, Izzo thinks his team has the talent and the intangibles to contend for the title again this year.
"They do believe in each other, they trust each other they want to win for each other," said Head Coach Tom Izzo. "It's not, 'I want to win to get to the NBA,' it's not, 'I want to win for this or that, or personal reasons, I need to score this many points.' They are honestly happy no matter who is the star. You can't say that about all teams."
Xavier Tillman agreed, saying, "We're really connected. Everyone jokes around with everyone, we go over to each other's' houses all the time. They come over, they play with my daughter. We make dinner and stuff like that. We're just a really close, connected team."