Man with permit to carry won't be charged in downtown Minneapolis shooting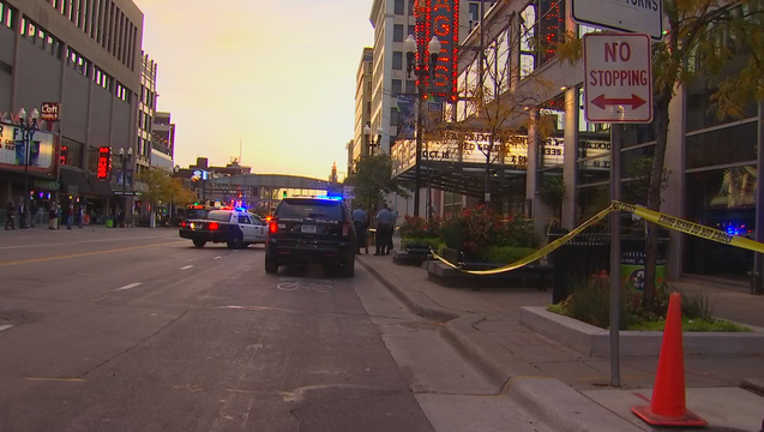 article
This story has been updated to reflect the decision of the Hennepin County Attorney to decline criminal charges
It's a sound many weren't expecting to hear on a warm, clear fall afternoon in the heart of downtown Minneapolis.
But what witnesses describe as two gunshots and a short "scuffle" just before 5 p.m. Wednesday broke the genial mood on the corner of 7th Street and Hennepin Avenue, leaving one man injured and another in police custody. 
A man who told police he has a permit to carry was walking with another woman in the area when a group of two men and a 17-year-old possibly surrounded the pair, according to police.
"It just kind of happened all of a sudden," said Courtney Bivens, who saw the entire incident unfold. "There was a little scuffle, so that caught my attention, and when I looked up I saw a guy pull out a weapon."
The first shot, Bivens said, missed Demani Griffith and caused him to run away. The man then let off a second round as the 18-year-old was fleeing, which Bivens believes was the one that struck Griffith in the leg.
Police said he suffered a non-life threatening injury and was taken to Hennepin County Medical Center for treatment. Meanwhile, the man who fired the shots was arrested on felony assault charges after being taken to City Hall for questioning. The Hennepin County Attorney's Office has since declined to pursue charges.
The intersection of 7th and Hennepin, where the incident took place, represents the heart of downtown Minneapolis--just down the block from the Hennepin Avenue theaters, the First Avenue music club, Target Center and popular restaurants and rooftop bars.