Crews feed starving cows during California storms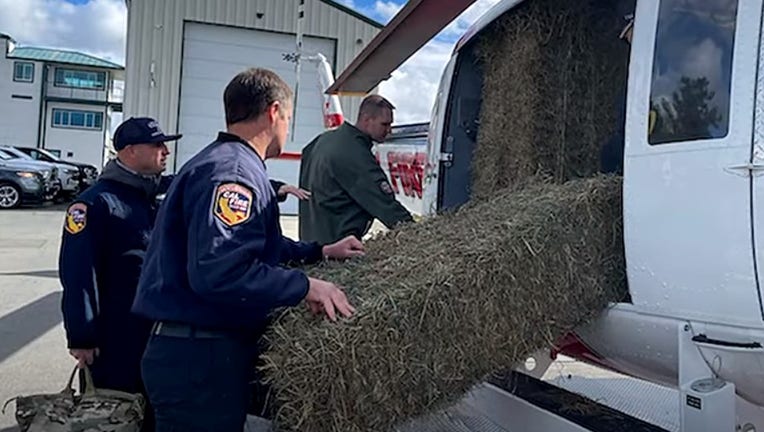 article
EUREKA, Calif. - As winter weather continues to pummel the state, emergency workers in Northern California have taken drastic measures to keep herds of cattle alive.
Multiple cows have been dying off this winter due to the unprecedented weather and the inability for ranchers to feed their cattle, according to Humboldt County Sheriff William Honsal.
So, the sheriff's office worked with U.S. Coast Guard and Cal Fire to start dropping hay bails to the starving cows via helicopter this week.
"We've received multiple reports of cattle dying off because ranchers cannot get to their cows due to impassable roadways," Honsal said in a statement. "These cattle are an economic driver, they're starving, and they're calving right now. So all those things necessitate some drastic measures."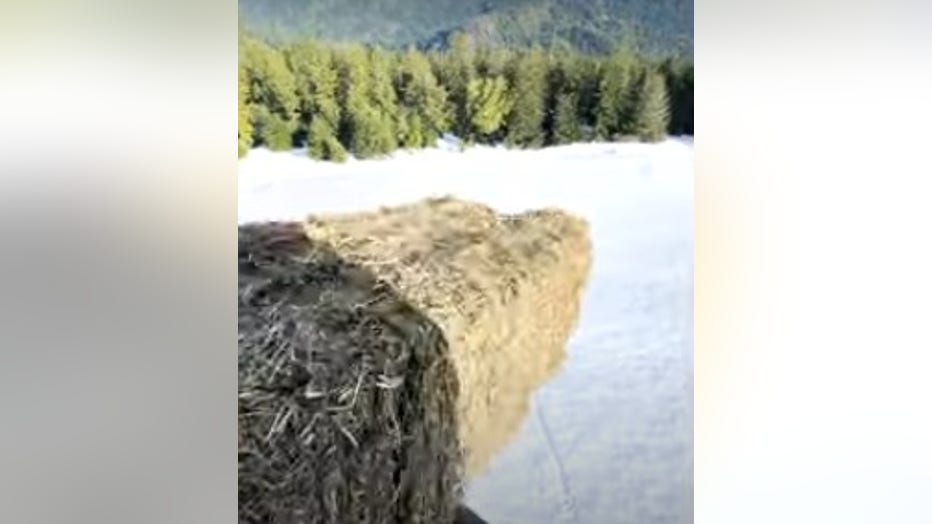 Emergency workers drop hay bails to starving cattle March 5, 2023. Photo credit: Humboldt County Sheriff
Several feet of snow and downed trees have blocked the mostly private roads. The mountain fields are populated by hungry cattle who aren't getting the care they need.
One rancher in the area recalled a similar operation in the 1980s, and got the process rolling with the sheriff and Cal Fire a few weeks ago. 
The process was approved by the governor's office on Sunday and the hay drop began.
"We won't know until the snow melts how many cattle have died due to these conditions," Honsal said. "But I know this for certain, if we don't act, there's going to be way more that do die and it will be a catastrophe for our county."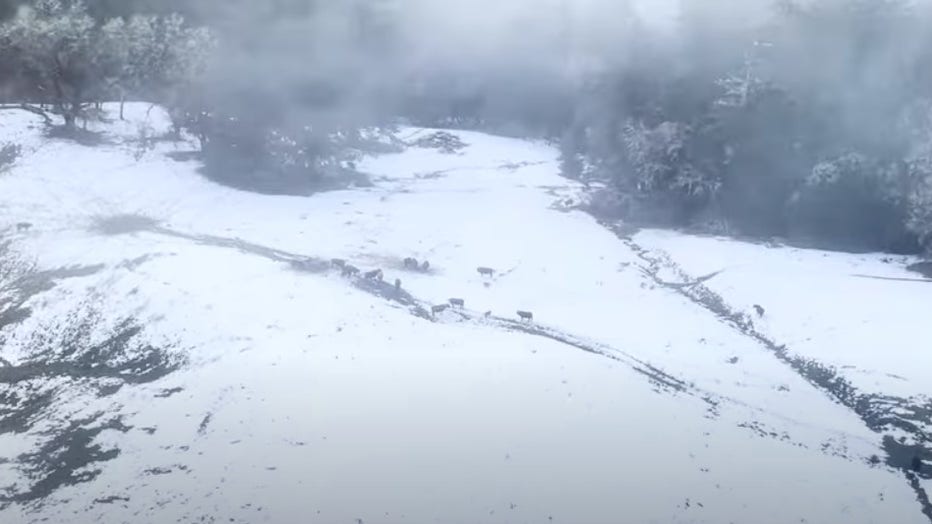 Hungry cows in the snowy mountains of northern California, March 2023. Photo from Humboldt County Sheriff
Mendocino County is also under massive amounts of snow, prompting road closures that have left dozens of people stranded, some of whom rescue crews have had trouble reaching because of the conditions. 
And with more snow on the way, the situation could get worse. 
The next storm, hitting Thursday and Friday, is expected to bring record-breaking precipitation.