Charges: Cottage Grove man failed to hire hitman, killed wife himself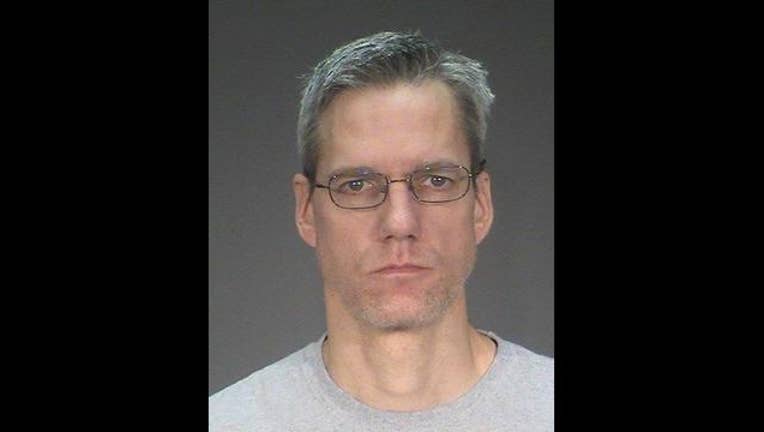 article
COTTAGE GROVE, Minn. (KMSP) - A Cottage Grove, Minnesota man is facing murder charges for allegedly killing his wife, 44-year-old Amy Allwine, in November 2016 after unsuccessfully trying to hire someone else to do it for him. 
According to the criminal complaint, Stephen Allwine, 43, shot and killed Amy at their home on November 13, 2016. He allegedly staged her death as a suicide and told police he discovered his wife's body when he arrived home from picking up the couple's nine-year-old son from his grandparents' house.
The autopsy revealed Amy had been drugged and shot in the head.
An investigation also revealed that in the months before her death, her husband had allegedly searched the "Dark Web" unsuccessfully for a hitman to kill her.
Stephen was charged with second degree murder on Wednesday, with his bail set at $500,000.
Stephen and Amy Allwine met at a small religious college in Texas, and after they married they moved to St. Paul to be closer to her family. 
Amy ran a dog training business, Active Dogs Sports Training, located right next door to her home. The business shut down shortly after her death.
According to his LinkedIn page, Stephen does IT for an insurance company, and is active in the ministry, posting several sermons on a web site for the United Church of God.
According to his bio, over the past 15 years they've traveled and worked with congregations around the world. Stephen writes, "This experience has allowed them to see on a very small scale what the kingdom of God will be like."
TIMELINE
February 14, 2016 – March 22, 2016
Investigators believe Stephen made several attempts to hire a hitman on the "Dark Web" to kill his wife using the username "dogdaygod."
FBI evidence revealed "dogdaygod" sent an email to a Dark Web website called "Besa Mafia," where people solicit murders and assaults for hire," to inquire about the cost of a "hit."
In one exchange, a hitman was supposedly hired to kill Amy while she was traveling to Illinois for a dog training competition. However, Besa Mafia informed dogdaygod that their hitman followed Amy, but did not get a chance to kill her.
 Dogdaygod and Besa Mafia ultimately decided Amy would be killed at her home and the house would be burned down afterwards, but Besa Mafia continually delayed the hit. 
Investigators found several cookies for search engines used to search the Dark Web on Stephen's phone, as well as evidence that he was making bitcoin transactions.
May 18, 2016
The user, dogdaygod, posted on another Dark Web website asking if anyone in the Minneapolis area had any Scopolomine  for sale. Scopolomine, nicknamed the "devil's drug," is known to erase a person's memory, rendering them incapable of exercising their free will.
Scopolomine was found in the victim's system at the time of her death.
July 24, 2016 – July 31, 2016
Amy received two threatening emails from an anonymous email address, blaming her for their life falling apart and their husband leaving them.
The emailer threatened to harm Amy's family unless she committed suicide and "if you do not, then you will slowly see things taken away from you and each time you will know that you could have stopped it, which will eat you apart from the inside."
November 13, 2016
Cottage Grove police were called to the couple's home on the 7600 block of 110th Street South at approximately 7:00 on Nov. 13 on a report of a gunshot wound. Upon arrival, they found Stephen standing in the open garage with his son. He told police Amy was in one of the bedrooms, that he was uncertain of her injuries and that a nine millimeter firearm had been used.
Officers located Amy in the bedroom, dead from a gunshot wound to the head. A gun was found near her body. The Ramsey County Medical Examiner determined she died around 3:00 p.m.
Autopsy findings and evidence from the subsequent investigation were not consistent with a self-inflicted gunshot wound.
Stephen initially told police he last saw Amy around 5:30 p.m. that night when he left to go pickup their son from her parents' house. When they arrived home later that night, they found Amy lying in the bedroom.
Video and recordings from the couple's home security system recordings confirmed Stephen left the residence around 5:30 p.m. and that no one entered the house through the three monitored entry points until he and the son returned home to find Amy's body.
Police also interviewed the couple's son, who said that earlier in the day his father had taken his mother to the clinic because she was not feeling well.
The son told police that when he found his mother later that night, he asked his father why she was sleeping on the floor, to which his father replied, "she's probably dead," and called 911. His father told him there was blood all over and there was a handgun.
Investigators later learned from one of Stephen's employers, Opantix, that he did not log any activity after taking his lunch break at 12:13 p.m. on the day of the murder. Stephen's other employer, Cigna, also verified that he did not log into work at all on Nov. 13.
Lab results also revealed Stephen had gunshot residue on his right hand on the night of the murder.