Gopher football players show support for Fleck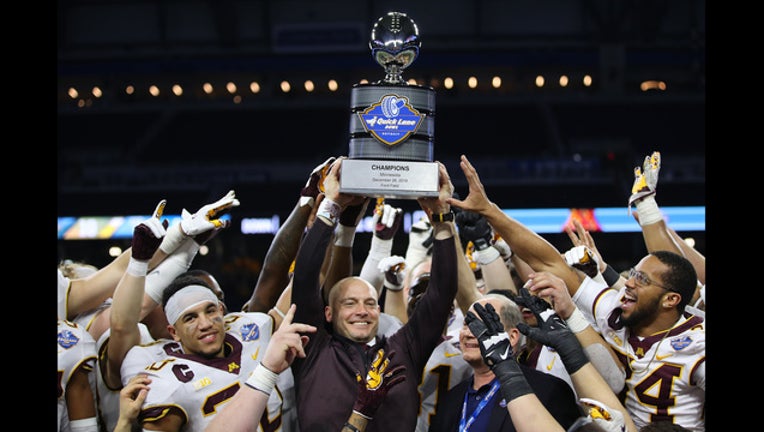 MINNEAPOLIS (FOX 9) - Several current University of Minnesota football players have taken to social media to support coach PJ Fleck in the wake of comments made about Fleck by former coach Jerry Kill earlier this week.
Kill made an appearance on Sirius XM Radio after being named the athletic director at Southern Illinois, where he was the head coach years ago and had Fleck as an assistant. Kill had to retire from coaching the Gophers in the middle of the 2015 season due to recurring health issues.
Tracy Claeys took over, and the Gophers went 9-4 in 2016 with a victory over Washington State in the Holiday Bowl. The bowl game almost didn't happen after players held a boycott over sexual assault allegations against multiple players. Claeys was fired just days after the bowl game, and Athletic Director Mark Coyle hired Fleck to take over the program.
At the end of the interview earlier this week, Kill said Fleck "is about himself, not the players," amongst several other comments. The two have spoken once since Fleck was hired, and Kill said "It wasn't good."
Current senior linebacker Carter Coughlin was recruited by Kill, played for Claeys and just finished his second season under Fleck. Coughlin posted his full support for Fleck on Twitter Wednesday night.
"Just for the record - I absolutely love playing for Coach Fleck, EVERY day I see how much he cares about me and the entire team, and there are honestly few men I've met who I respect as much as Coach Fleck. Some people need to hear that!" Coughlin's tweet said.
Wide receiver Rashod Bateman, quarterback Tanner Morgan and linebacker Kamal Martin all quoted Coughlin's tweet in full support. Martin didn't play in this year's Quick Lane Bowl, a 34-10 Minnesota win over Georgia Tech, after being suspended by Fleck for a violation of team rules.
In his second season, Fleck and the Gophers finished 7-6 with a signature win at Wisconsin to earn bowl eligibility. The Gophers start Spring Practice in just a few weeks.