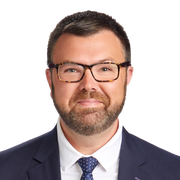 Jason Matheson
Host, The Jason Show
Jason Matheson began his television career at WCCO-TV. Paying "his dues" as an overnight dispatcher, working the weekend overnight shift. In the spring of 2000, Matheson moved to KMSP-TV, FOX 9 as executive producer of "The Buzz", a long-running and highly popular daily entertainment segment. Within months of his arrival at FOX 9, he was moved in front of the camera as film critic for the station's newly launched morning show, "Good Day Minnesota." During his time at FOX 9, Jason has interviewed celebrities including: Ewan McGregor, Cher, Will Smith, Arthur Miller, Meryl Streep and Emma Thompson.
Jason began as a radio host on myTalk 107.1 in 2006 with co-host Alexis Thompson on "The Saturday Night Groove." Within a few years they moved to a weekday show and then in 2013 promoted to morning drive launching, "Jason & Alexis in the Morning."
While his radio career was expanding so was his presence on television. In 2009 Jason was named co-anchor of the newly expanded, FOX 9 weekday morning show called, "The Buzz" and also co-anchored the early edition of The FOX 9 Morning News.
After a brief return to WCCO-TV in 2014, Jason went back to FOX 9 in 2015 to launch "The Jason Show." A one hour, daily talk show which has had two successful national runs.
Jason is a five-time Emmy Award nominee and two-time winner. He was named one of the "40 under 40," from the Minneapolis-St. Paul Business Journal's and was named one of the Ten Outstanding Young Minnesotans by the Minnesota Jaycees, an honor previously given to Walter Mondale among others.
In 2016, Jason was nominated for a Marconi Award for Large Market Personality of the Year.
Jason is married and lives in the North Loop of Minneapolis with his husband, Collin Matheson and their two dogs, Dexter and Mr. Big.