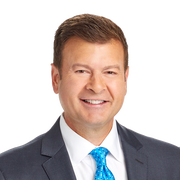 Tom Butler has been anchoring the award-winning FOX 9 Morning News for almost 15 years.
He grew up in the Seattle area and knew early on he wanted to be a TV journalist. He graduated from the Edward R. Murrow School of Communication at Washington State University and is a PROUD alum, Go Cougs!
Tom and his wife have lived all over the country from Washington to Nevada to New York, and most recently moving with their very young daughters from Tennessee.  Minnesota is HOME. 
Tom is an avid sports fan and loves his Minnesota teams!  He even threw out the first pitch at a St. Paul Saints game! He's also been known to play a round or two of golf during the months when snow isn't covering the fairways.
Career hightlight: Tom was on the banks of the Mississippi reporting nearly non-stop for almost 12 hours on the collapse of the 35W Bridge back in 2007.
He also is the first to jump in the anchor seat to report on breaking news and loves that about his job.
He had the idea for the Dance-Off back in 2009, wanting to add some levity to the week after the Recession hit.
And yes, Tom and his family enjoy tacos (Tom makes) on Tuesdays!