The unknown switch that you should change twice a year on your ceiling fan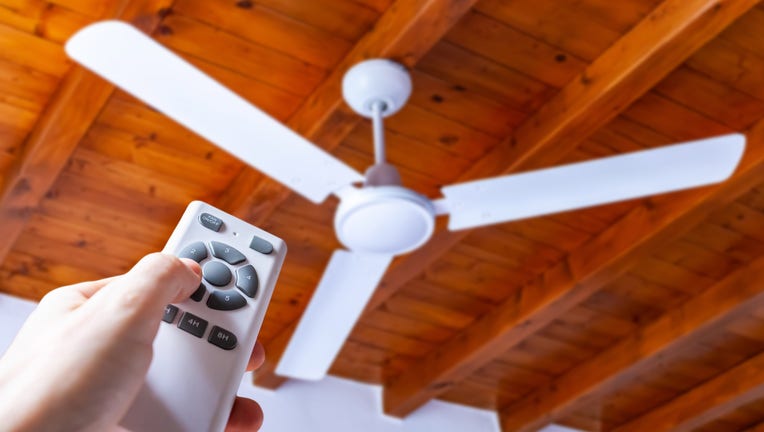 article
The changing of the weather across the Lower 48 serves as a reminder it is about that time to change not only the batteries in smoke alarms but also the direction of your ceiling fan spins to feel more comfortable and save some money in the process.
During the summer, experts suggest allowing a fan to spin counterclockwise. During the cooler months, a fan should rotate in the opposite direction – clockwise. The adjustment to clockwise during the winter creates an updraft, much like a developing thunderstorm, while a summer direction creates a downdraft. 
The clockwise spin in the winter pulls cold air near the floor up toward the ceiling, which forces the warm air trapped near the ceiling to the ground. The counterclockwise spin in the summer blows air down and creates a mini wind chill effect.
The changing of direction is easily completed by flipping a small switch on the fan or pulling a chain attached to the fan's motor.
FALL FOLIAGE TRACKER: DISCOVER MAPS AND WHERE TO SEE THE MOST BRILLIANT COLORS ACROSS THE US
Cost-effective reasons for changing ceiling fan direction
The U.S. Department of Energy estimates that a homeowner spends more than $1,900 on utility bills each year, with nearly half going to heating and cooling.
The proper use of fans can make a room's temperature feel as much as 4 degrees more comfortable and lower energy costs by as much as 14%.
SAVE MONEY ON YOUR ENERGY BILL THIS WINTER BY FOLLOWING THESE SIMPLE TIPS
The larger a ceiling fan is, the more air that can be moved within a space. However, it is only advantageous to run the fan while the room is occupied.
Energy experts said a fan that has a diameter of 36 or 44 inches can effectively help cool or warm a room up to 225 square feet.
There are some exceptions to the unknown rule, and ceilings where the fan is too high up to feel any relief should be kept on counterclockwise rotation to maximize benefits.
The annual adjustment of the direction of the fan is not well advertised, and after people discover the trick to save money and stay more comfortable, seeing a fan operate during the winter becomes less of an oddity.