Super Bowl LVII top moments that happened on, off and above the field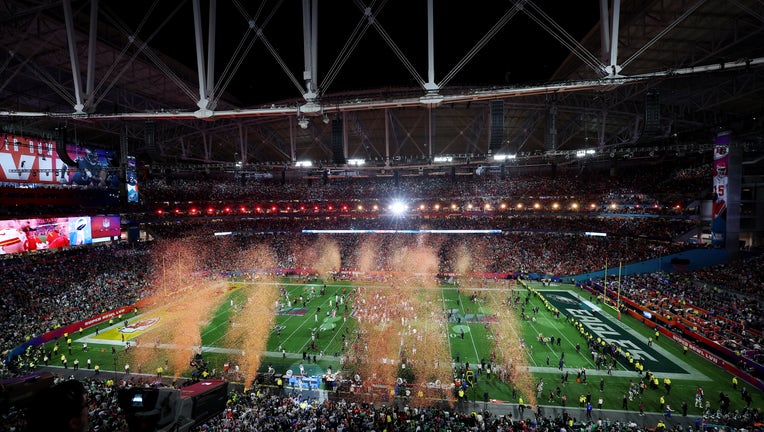 article
GLENDALE, Ariz. - The Kansas City Chiefs beat the Philadelphia Eagles 38-35 in a memorable Super Bowl that included plenty of big plays on and off the field. Here's a look at some top moments from Sunday night's game:
CHIEFS WIN
Harrison Butker kicked a 27-yard field goal with 8 seconds remaining to lift the Chiefs to their 38-35 win over the Eagles. The Chiefs have won the Super Bowl in two of the past four seasons and their roll shows no sign of stopping, especially with Patrick Mahomes throwing the passes. Kansas City's quarterback overcame a sprained ankle to earn Super Bowl MVP honors after throwing for 182 yards and three touchdowns. Coach Andy Reid also captured his second Super Bowl title and this one came at the expense of the franchise he coached for 14 seasons before coming to Kansas City.
RIHANNA
Rihanna provided a high-flying halftime performance in Arizona. The nine-time Grammy Award winner began and ended the halftime show suspended high above the field. She wore a puffy, bright red jumpsuit with tight, rubbery garb underneath as she stood on a transparent rectangular platform that raised and lowered as she belted out the lyrics to her hit songs over the turf.
Oh yeah, and to top it off, she did the performance while pregnant, news that was revealed after the show.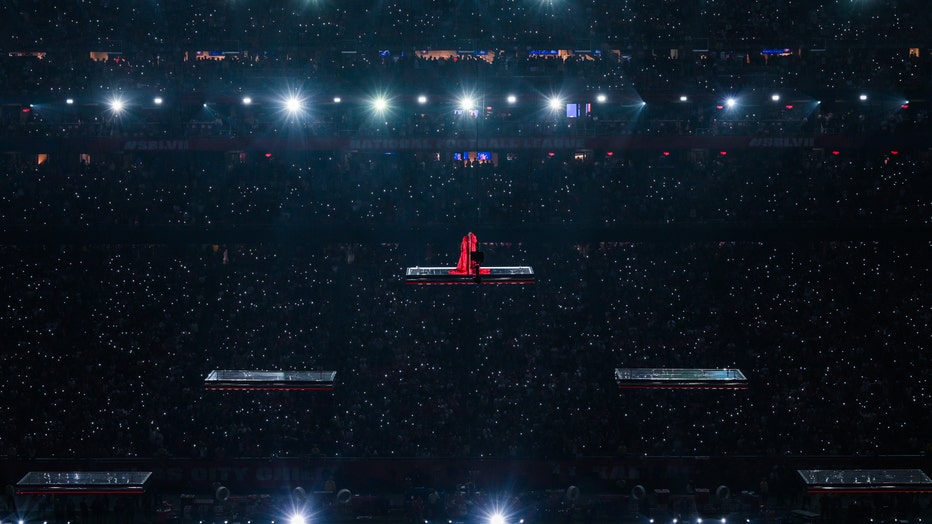 Rihanna performs during the Apple Music halftime show at Super Bowl LVII, between Kansas City Chiefs and Philadelphia Eagles, held at State Farm Stadium in Glendale. Picture date: Sunday February 12, 2023. (Photo by Anthony Behar/PA Images via Getty Images)
VALLEY OF FUN
The Phoenix area is no stranger to hosting big events, but this was a huge weekend even by its standards. The winter and spring months are already tourist season in Arizona and the Super Bowl added another layer of revelry, adding tens of thousands of people who filled bars and restaurants and at times spilled into the streets. Throw in the Phoenix Open, the PGA Tour's version of a boozy mosh pit on grass, and the Phoenix area transforms into a weeklong Valley of Fun.
"The buzz is definitely here," said Jay Parry, president and CEO of the Arizona Super Bowl Host Committee.
BRADBERRY SEES YELLOW
This could be a highlight or lowlight, depending on rooting allegiances, but James Bradberry's penalty on the final drive was undeniably a huge moment. The Chiefs were driving and faced third-and-8 at the Eagles 15-yard line with 1:54 remaining when Kansas City quarterback Patrick Mahomes threw incomplete to JuJu Smith-Schuster. But officials flagged Bradberry for defensive holding, which negated the incompletion and, more importantly, gave the Chiefs a first down. Replays showed Bradberry made light contact with Smith-Schuster, though it didn't appear to affect the play much. Many fans — and some football commentators — disagreed with the call. The only person who didn't seem upset with the call was Bradberry himself.
"It was a holding. I tugged his jersey," Bradberry said. "I was hoping they would let it slide."
BETTING BONANZA
Mahomes rallied the Chiefs to victory and for that, casinos around the U.S. were pleased. Kansas City's 38-35 win meant the books were winners on the betting line, which generally favored the Eagles by 1 1/2 points and drew plenty of wagering on the NFC champions. That victory by the casinos offset a loss on the total, which was 51 1/2 points at many places. Sports betting has become huge business in the U.S. now that two-thirds of the country can do so legally.
TONEY'S EMERGENCE
Kadarius Toney's struggles with injuries and inconsistency prompted the New York Giants to give up on him midway through his second NFL season. The Kansas City Chiefs gave him a second chance and the talented receiver proved he's no first-round bust. Toney made history and two of the biggest plays in the Chiefs' win. His 65-yard punt return in the fourth quarter was a particularly big moment. It was the longest punt return in Super Bowl history.
BOLTON'S SCOOP, SCORE
The first hint it might be the Chiefs' night came in the second quarter when Hurts fumbled and Chiefs linebacker Nick Bolton scooped up the football and ran 36 yards for the touchdown. It was at a pivotal moment in the evening: The Eagles were ahead 14-7 and driving at midfield when Bolton's game-changing play occurred. Suddenly, the game was tied and the drama was just beginning.
STAPLETON'S ANTHEM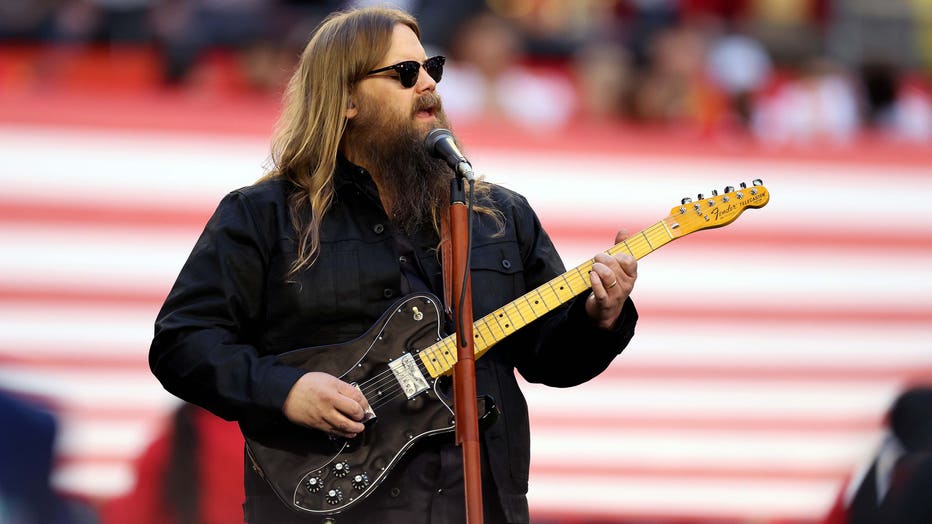 GLENDALE, ARIZONA - FEBRUARY 12: Chris Stapleton performs the national anthem before Super Bowl LVII between the Kansas City Chiefs and the Philadelphia Eagles at State Farm Stadium on February 12, 2023 in Glendale, Arizona. 
The Super Bowl might be known for its extravagance, but country singer and songwriter Chris Stapleton didn't need any high-tech help for a stellar performance during the national anthem. Stapleton stood at midfield with just a guitar and his smooth baritone voice, belting out an emotional rendition that had Eagles coach Nick Sirianni in tears by the end.
HURTS SO GOOD
Hurts wasn't victorious in his first Super Bowl appearance, but the young quarterback has no reason to be ashamed. He was phenomenal in Arizona, setting a Super Bowl record with three rushing touchdowns. On top of that, he completed 27 of 38 passes for 304 yards and a touchdown, showing poise and perfect throwing touch on a number of occasions.
SLICK FIELD
The field at State Farm Stadium may have looked immaculate, but by the second half, it was clear that traction was not great. Said Eagles left tackle Jordan Mailata: "It was like playing on a water park." The grass at State Farm Stadium is on a giant tray that is rolled in and out of the retractable roof stadium. The field sits out in the Arizona sun on warm days and is brought back inside when it gets cold. This particular batch of grass started growing in May of 2021, but even a nearly two-year process couldn't produce a flawless field.
HELLO HAMLIN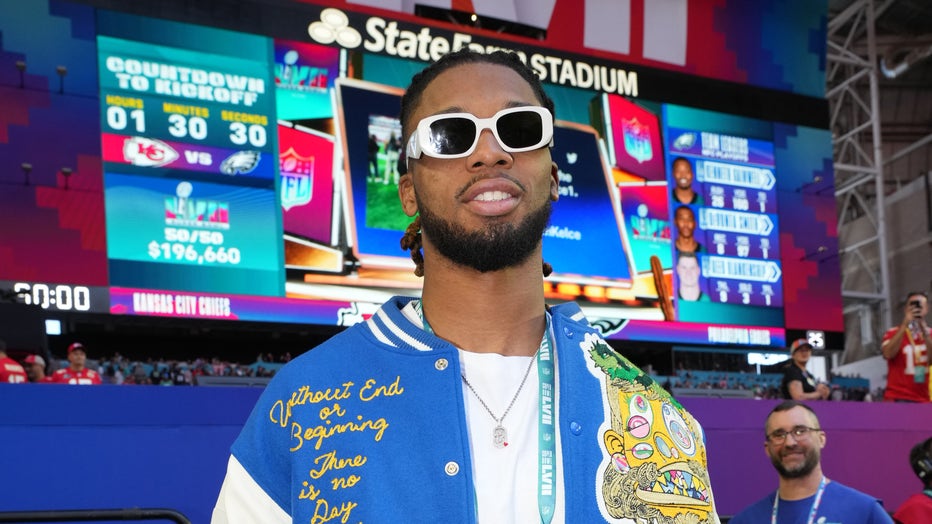 GLENDALE, ARIZONA - FEBRUARY 12: Damar Hamlin attends Super Bowl LVII at State Farm Stadium on February 12, 2023 in Glendale, Arizona. (Photo by Kevin Mazur/Getty Images for Roc Nation))
Buffalo Bills safety Damar Hamlin made it to the Super Bowl. He made three appearances during the week in Arizona, including on the field at State Farm Stadium prior to the game. It's been a little more than a month since Hamlin went into cardiac arrest and needed to be resuscitated on the field in Cincinnati. Sunday's appearance was another milestone in his remarkable recovery. "I'm allowing that to be in God's hands," Hamlin said in an interview with Fox's Michael Strahan. "I'm just thankful he gave me a second chance."
___
AP Pro Football Writers Rob Maaddi and Josh Dubow, AP Sports Writers John Marshall, Dave Skretta and Mark Anderson, and AP Entertainment Writers Andrew Dalton and Jonathan Landrum Jr. contributed to this report.
___
AP NFL: https://apnews.com/hub/nfl and https://twitter.com/AP_NFL
Streaming live events, breaking news, and stories from around Arizona and the world: