Green Comet E3 will appear near Mars this weekend: Here's where to look
Heads up (literally) skywatchers: You'll have one more golden opportunity to witness Comet E3 as it appears extremely close to Mars over the weekend. 
The comet made a fast approach toward Earth on Feb. 1, but due to a bright full moon on Feb. 5, it's been difficult to see the green comet even with a telescope. 
But viewing conditions this weekend will be somewhat better, according to AccuWeather, with the full moon now in the rearview mirror. 
"There will be no better opportunity to go comet hunting than on Friday night when Comet E3 appears just above Mars," the forecasting service wrote Wednesday.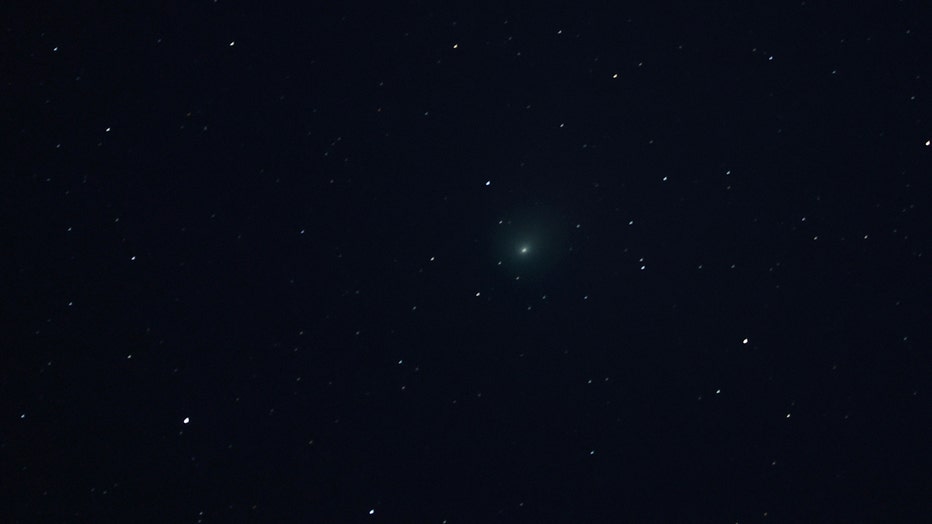 JANUARY 31: Comet C/2022 E3 (ZTF) is visible in the sky above the Mojave National Preserve in San Bernadino County as it approaches Earth for the first time in about 50,000 years on January 31, 2023 near Baker, California. The comet was discovered on
Keep in mind, Comet E3 will not be as bright as it was at the end of January and the start of February, so onlookers may still need a pair of binoculars or a telescope to see it. 
"Mars will be the perfect reference point, making it easy for novice stargazers to pick out the dim comet in the vast, star-studded sky," AccuWeather continued. 
Where to find Comet E3
Friday night, the red planet will glow orange in the southern sky after nightfall and will gradually shift to the western sky by around 11 p.m. local time.
Clouds will remain the greatest obstacle Friday evening with nearly half the country facing poor weather conditions for stargazing. Most of the central United States and part of the Rockies should experience the best viewing opportunities.
Saturday night and Sunday night will offer two more opportunities to see the spectacle after sunset, with Comet E3 in the same region of the sky as Mars.
Comet E3 will continue moving away from Earth during the second half of February, making it more difficult to see. 
Astronomers at the National Science Foundation's Zwicky Transient Facility (ZTF) in California first detected the moving object in the solar system on March 2, 2022.
On Jan. 12, Comet C/2022 E3 (ZTF) reached perihelion - its closest approach to the sun. This made an excellent time to begin looking for the comet at night. Since then, the comet has been seen by people on Earth with the help of telescopes and binoculars.
According to NASA's Jet Propulsion Laboratory, the green comet was traveling at about 128,000 mph when it made its closest approach to the planet at just over 26 million miles on Feb. 7. 
This story was reported from Los Angeles.